Ukrainian IT industry in 2022: Is It Worth Investing?
The Ukrainian IT industry is one of the most promising in Eastern Europe. Despite the war, it has made great progress and is already recognized at the international level. In this article, we will examine how this industry is developing and why it is worth investing in it. We will also talk about the greatest skills of our software engineers, who are among the most sought-after professionals in the world.
Overview of the Ukrainian tech industry
The Ukrainian tech industry is one of the most promising and rapidly developing sectors in the country. Despite the complicated economic situation in Ukraine, the IT sector continues to grow and attract foreign investments.
According to a recent report by the IT Ukrainian Association, the Ukrainian IT industry is growing by 25-30% annually and contributes $5 billion to Ukrainian exports per year. The number of IT companies in Ukraine has also increased, with more than 5,000 IT companies now operating in the country.
The report also shows that the Ukrainian IT industry is becoming increasingly international. The most popular destination for Ukrainian tech outsourcing is the United States, but cooperation with European Union countries and Israel is also increasing significantly.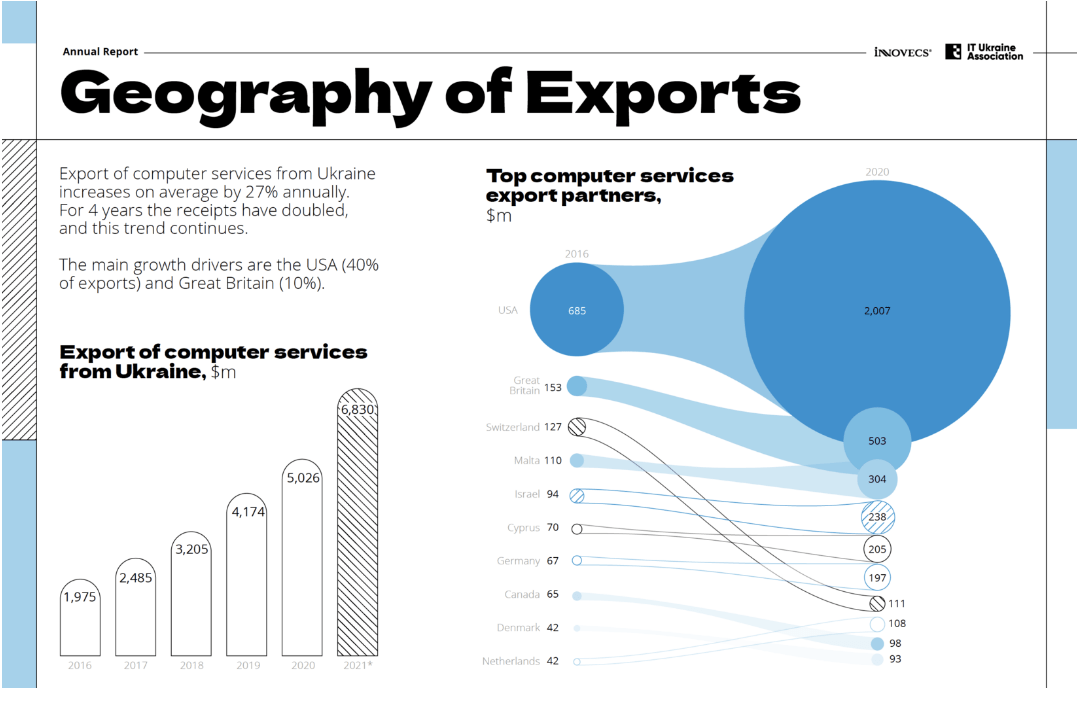 There are several reasons why the Ukrainian IT industry is attractive to foreign investors. Let us take a look at some of them.
IT Education
Ukraine has a large pool of talented and qualified IT professionals and devs. According to the report of IT Ukrainian Association, almost 300,000 people work in the sector today.
The information technology sector is a major player in the Ukrainian education system. So far, the demand for new IT specialists has exceeded the capacity of Ukrainian universities (HEI). As a result, a whole range of non-formal IT educational institutes have emerged to provide rigorous training courses for new young professionals. Non-formal education prepares tens of thousands of new IT professionals every year. According to the Association, their number will increase to 20-25 thousand in the coming years.
The high level of education of Ukrainians explains the great demand for Ukrainian specialists. According to the UN education index, Ukraine ranks 47th out of 189 countries (between the United Arab Emirates and Italy). In general, Ukraine's education index corresponds to the level of international education.
Salaries
Compared to other European countries, labor costs in Ukraine are quite favourable. Salaries are often based on professional position. According to the DOU, the typical monthly salary for a senior software engineer is $4,500. If we talk about a mid-career developer, it ranges from $2,000 to $3,120. For a junior developer, the monthly salary is around $900.
You can see the salaries for other IT positions and other details on the DOU website.
| | | |
| --- | --- | --- |
| Software Engineer Level | Monthly (in USD) | Annual (in USD) |
| Junior | $900 | $10,800 |
| Middle | $2,000 | $24,000 |
| Senior | $4,500 | $54,000 |
TAX System
Ukraine's tax structure has always provided favorable conditions for IT companies, ensuring steady growth of the sector year after year. Furthermore, significant tax reductions are planned for 2022. (Diia City).
Instead of hiring full-time employees, companies could choose to work with IT professionals who are self-employed. This way you can bypass the traditional employment model.
In this case, IT professionals must pay taxes on 5% of their earnings. Companies often refund the amount that the contractor had to pay. This is a wonderful bargain for a company.
Exports of IT services
As Ukraine's IT industry continues to grow, so does the export of IT services. The country is now one of the largest exporters of IT services in Europe. The sector contributes 4% to Ukraine's GDP. Exports of computer services from Ukraine are growing at an average annual rate of 27%. The main growth drivers are the USA (40% of exports) and the UK (10%).

Where to hire a team of developers?
Tell Us About Your Project and Learn How We Will Help
Comparison of the most popular programming languages in the world vs the most popular among Ukrainian developers
The world of programming languages is constantly changing and evolving. While some languages become more popular, others start to fall behind. This is especially true for the most popular programming languages in the world and the most popular among Ukrainian developers.
There are many reasons why a programming language may become more popular. In some cases, it may be due to the popularity of the platform it is used on. For example, Swift became more popular after Apple introduced it as the primary programming language for developing iOS apps. In other cases, a language may become more popular due to its features or ease of use. For example, Python has become one of the most popular languages in recent years due to its simple syntax and powerful data science libraries.
Interestingly, there is often a disconnect between the most popular programming languages in the world and the most popular among Ukrainian developers. This is likely due to the fact that Ukraine has a strong history in software development and has produced many world-renowned developers. As a result, Ukrainian developers tend to be early adopters of new languages and technologies. They are also more likely to be familiar with multiple languages and be able to use them for different purposes.
Here is a comparison of the 8 most popular programming languages:
| | | |
| --- | --- | --- |
| # | World | Ukraine |
| 1 | Python | JavaScript |
| 2 | C | C# |
| 3 | Java | Java |
| 4 | C++ | Python |
| 5 | C# | PHP |
| 6 | Visual Basic | TypeScript |
| 7 | JavaScript | Kotlin |
| 8 | Assembly language | Swift |
Sources:
World
/
Ukraine
How does the IT industry work in Ukraine during the war?
According to a survey conducted by the IT Ukraine Association, since the very beginning of the war, almost 2% of IT professionals mainly with military experience have joined the Armed Forces. In some small companies with a staff of up to 200 people, 20% of specialists joined the army.
IT companies were able to adapt quickly to new circumstances because most of them had anti-crisis business plans. Shortly before the war, a number of specialists were relocated from the eastern regions. Currently, more than 70% of IT professionals work in safe regions of Ukraine, and the other 16%, mostly women, work abroad.
Despite the current situation in our country, many global companies are still working with us and cooperating with us. We believe that it is still worth working with the Ukrainian IT industry and here are some reasons why:
Firstly, the Ukrainian IT industry is very flexible and adaptable. We are constantly changing and improving our systems and processes in order to better meet the needs of our clients.

Secondly, we have a lot of experience in collaborating with international clients and projects. We have a strong understanding of international business practices and can offer an elevated level of service.

Thirdly, we are very cost-effective. Our rates are extremely competitive, especially when compared to Western European countries.

Fourthly, we have a large pool of highly skilled and talented workers. Many of our workers have degrees from top universities and institutions.

Finally, we are committed to providing the best possible service to our clients. We understand that your success is our success, and we will do everything possible to help you achieve your goals.
And if you need help overcoming the challenges of expanding teams and hiring professionals, whether in Ukraine or elsewhere in the world, Talentica is here to provide you with cost-effective staffing services.
We are pleased to announce that we have been named one of the Top IT Services Staffing Firms by DesignRush for 2022.

Conclusion
Despite the fears of war and the challenges it brings, the technology sector continues to operate and is an island in Ukraine's economic stability. Companies were able to adapt quickly and are back in business. There are many opportunities for cooperation and partnership within the Ukrainian IT industry. We hope that by sharing this information, we can help to dispel some of the fears that global companies may have about working with Ukrainians.