2022 Job Market Outlook: most in-demand Tech Jobs
The era of the 9-to-5 office job is long gone. Today, technology has taken over the world, and we are seeing a massive shift in the economy from traditional jobs to those that involve working with modern technologies. In this article, we will talk about the specific tech positions with the fastest-growing demand, as well as trends in corporate culture that you may want to pay attention to.
The reinvention of the company culture
Gone are the days when employers could lure employees with luxuries like ping pong tables and unlimited food to make the workplace a home away from home. Today, forward-thinking companies are collaborating with their employees to create a home office.
Corporate culture is at a crossroads. The pandemic, the pace of automation, the rise of Millennials and Generation Z in the workforce, and major restructuring are all changing it. Employees want – and often get – greater flexibility to work where and when they want, as well as greater attention to their health and well-being.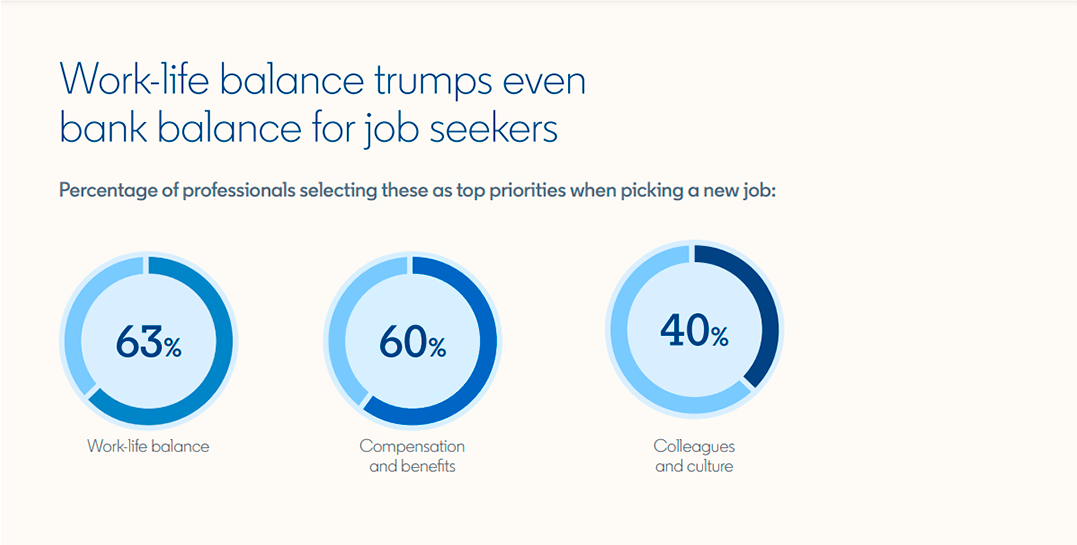 According to a LinkedIn survey on what matters most to job seekers around the world in 2021, the most important values for employees are a good work-life balance, great compensation, and benefits.Source: Linkedin
Jobs with the fastest-growing demand
The global technology market continues to expand at a rapid pace. According to Gartner IT, investments are expected to reach $4.5 trillion in 2022, a 5.1% increase over 2021.
The coronavirus outbreak, which prompted many companies to go online, is one reason. Companies are increasingly embracing hybrid work arrangements that allow workers to work both in-house and remotely.
The occupations with the fastest-growing demand that you should consider in 2022, as well as the most demanding occupations overall, are listed below.
Note: We don't provide the average annual salary for each job, as it depends on the technician's level of education and experience, as well as the location of the job.
1. Machine learning engineer
What they do:
Machine Learning Engineers design and develop self-running artificial intelligence algorithms and models for several types of applications. The responsibilities of a Machine Learning Engineer include designing and developing machine learning and deep learning systems, as well as conducting tests and experiments and implementing ML algorithms.
To be successful in this position, you must've exceptional skills in statistics and programming.
This role becoming popular because of:
This is a rapidly growing field because it requires a deep understanding of artificial intelligence. Also, many industries are starting to use machine learning to improve their products and services.
The location where this role is in the top 3: Australia, Egypt, Italy, Netherlands, Poland, Singapore, United Kingdom
2. Site reliability engineer
What they do:
A site reliability engineer is a type of software engineer that is responsible for ensuring that a company's website is always operating. They are responsible for the maintenance and upkeep of the code, updating the site to ensure it is compatible with current technology, running performance tests, and troubleshooting any issues or bugs on the website.
This role becoming popular because of:
This profession used to be accessible only to large companies, but now there's a huge demand for it in start-ups and small businesses. The role is spreading rapidly.
The location where this role is in the top 3: Australia, Brazil, Poland
3. Data engineer
What they do:
Data engineers work with data to find correlations that can be used to optimize business processes. This includes everything from promotions and marketing tactics to customer service strategies. The best data engineers have a wide range of expertise in subjects like math, statistics, computer programming, and business analysis.
This role becoming popular because of:
Data engineers are currently in high demand and the job outlook is very positive. This role is becoming increasingly important for companies. So as long as there's data to process, this profession will be in demand.
The location where this role is in the top 3: Brazil, Mexico, Poland, Sweden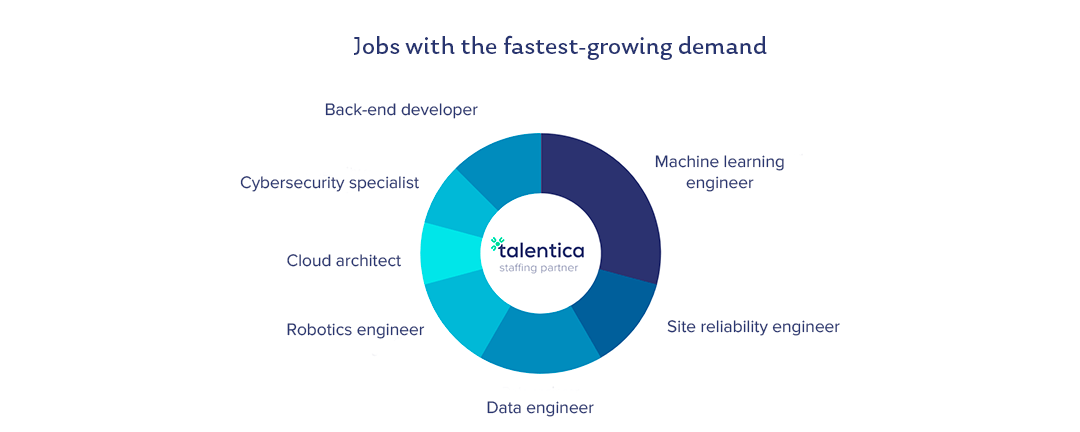 4. Robotics engineer
What they do:
Robotics engineers work with the latest in robotics technology. Robotics engineers are needed for designing, testing, and manufacturing robots. Jobs that require this kind of expertise are mostly in the automotive industry, as well as in general services and computer systems design.
This role becoming popular because of:
Robotics engineering is one of the world's most in-demand and fastest expanding fields today. Engineers that know how to design, develop, operate, and deploy robots are in high demand.
According to Reuters, North American corporations are trying to meet the rising demand for robots.
The location where this role is in the top 3: Italy, Netherlands, Brazil
5. Cloud architect
What they do:
Cloud architects are experts in designing and building cloud infrastructures. They have extensive knowledge on both the software and hardware side of things. They usually have a solid grasp of numerous operating systems, as well as networking, programming, and security abilities.
This role becoming popular because of:
With the advent of digital transformation, an increasing number of businesses are transferring their technological areas to the cloud. Companies will be looking to hire more cloud architects to keep up with demand in 2022.
The location where this role is in the top 3: Italy, Spain
6. Cybersecurity specialist
What they do:
A cybersecurity specialist uses his or her technical skills and training to protect an organization's sensitive data from internal and external risks such as cybercrime and unauthorized use.
The location where this role is in the top 3: Saudi Arabia
7. Back-end developer
What they do:
The back-end developer is someone who's familiar with programming languages and software development and has mastered concepts such as HTML, CSS as well as other important tools. Also, this professional must be able to solve problems that are "behind the scenes" of a website or application. He or she must also be proficient in programming logic in order to configure business rules.
This role becoming popular because of:
The digitization of work took on a greater scale with the Covid 19 pandemic. To keep up with the new dynamics, the search for developers increased, leading to even greater competition among professionals who were already scarce in the market.
The location where this role is in the top 3: Singapore, United Arab Emirates, Brazil
We are looking for a talented Developers
Jobs with the most demand overall
Below you'll find a list of the professionals most in demand today. We'll see what their responsibilities are and what skills are required for each role.
Software engineer
The software engineer is the professional responsible for designing and guiding the development of systems, applications, and programs.
With the advances of Industry 4.0 and the cyber age we live in, there are more and more fields of work for a software engineer who can work in areas of great innovation, such as:
Artificial Intelligence

Augmented and Virtual Reality

Robotics

Big Data

Telemedicine

Nanotechnology
Key Skills Needed:
Understanding and developing new technologies.

Good programming logic

Knowledge in areas such as math, logic, problem analysis, project management, and innovation.
JavaScript Developer
A developer is someone who programs, develops, and deploys systems in JavaScript for both the front-end and the back end. He also makes fixes to the systems to meet the needs of the users. Develops assembly, debugging, and testing of previously developed programs.
Key Skills Needed:
Knowledge of the characteristic tools of JS development such as IDE, package managers, CLI and build and automation tools.

Knowledge of frameworks like Angular, React, Vue and/or Ember.

And don't forget the soft skills: proactivity, responsibility, coexistence and collaboration in a group, and conversation skills.
Java Software Engineer
Java software engineers are in charge of creating and developing software applications in the java programming language. Java software engineers collaborate with web developers and other software engineers at all stages of the development life cycle, from basic design to final testing.
Key Skills Needed:
An extensive

grasp of software architecture and user interfaces.

Extensive understanding of Java, JavaScript, Java Servlets, and Java Beans.

Experience in software design and application programming.

Capability to manage projects.

Knowledge of application testing procedures.

Excellent troubleshooting abilities.

Knowledge of object-oriented design (OOD).

Solid knowledge of familiar Java structures such as JSF and Spring MVC.
DevOps Engineer
The DevOps Engineer introduces processes, tools, and methodologies to balance the needs throughout the software development lifecycle, from code creation to deployment to maintenance and updates. The DevOps methodology is primarily aimed at standardizing and automating processes. The professional must understand not only the development lifecycles, but also the DevOps culture, including its philosophy, practices, and tools.
Key Skills Needed:
In-depth understanding of operating systems (Windows, Linux).

Infrastructure and cloud management (such as AWS).

Agile methodologies (such as Scrum).

Knowledge of development languages (e.g., Python).

Understanding of versioning processes and software (such as Git).

You must also be familiar with other technologies and platforms such as Terraform and Ansible, Docker, Jenkins, Amazon ECS, and Kubernetes ELK.
Full Stack Engineer
The full stack engineer is an expert in both the front end and the back end. He's able to understand and operate all layers of a project's development. This means that this professional can develop websites, applications, and software from start to finish.
Key Skills Needed:
Programming languages such as Java, C#, PHP, Node.js, Ruby, Python.

Libraries and frameworks such as Django, Rails, Laravel, Phoenix and Spring Boot.

Version control tools such as Git and GitHub.

Responsive/mobile design.

HTML, CSS, JavaScript.

API architectures (REST / SOAP).

Database management
Conclusion
The tech industry is growing rapidly. This means that the demand for qualified workers will also be high. If you want to enter this field, make sure you have a solid education in information technology, mathematics, and computer programming. To learn more about the employment outlook for IT workers in 2022, check our vacancies today.