Hiring Magento Developer: Key Responsibilities, Tech Skills, and Salary
The Covid-19 pandemic changed consumer behavior and disrupted the retail industry resulting in many businesses going digital. Nowadays, the e-commerce industry is projected to exceed USD 5 trillion by the end of 2022. Businesses, which are planning to run an e-commerce platform will have a chance to win more customers and increase their revenue.
When it comes to e-commerce platforms, there are plenty of options to choose for your business. One of them is the Magento content management system. Magento is used by 8% of the top 1 million e-commerce sites worldwide. Magento has a huge devs community and only becomes more powerful. Building an e-commerce website with Magento gives businesses the power to scale and adapt to changes.
Although Magento is an open-source tool, using it is not so easy. That's why hiring a Magento developer is an efficient decision. But how do you hire a Magento professional?
In this article, we share the ways to find and hire top-notch devs.
Magento Developer Roles and Responsibilities
If Magento is a CMS, you may wonder: "Who is a Magento developer? And why does a CMS need someone with coding experience?"
Fair enough. Let's decode the roles and responsibilities of a Magento developer to understand the advantages of hiring one.
First of all, you should know that Magento, like many other e-commerce platforms, offers out-of-the-box solutions. However, if you want a customizable website with specific features, you'll need the help of a Magento programmer. Magento is built with PHP, uses different PHP frameworks (Laminas, Symphony), and runs on the MySQL database.
So, what does a Magento developer do? Here's a list of key responsibilities:
assess business requirements to implement efficient solutions,
creating various Magento templates and modules,
testing the system to find and fix vulnerabilities and inconsistencies,
integrating third-party solutions,
maintaining and troubleshooting the system,
building Magento e-commerce websites,
planning and implementing updates,
improving website security and performance,
conducting website optimization,
communicate with stakeholders, designers, and developers to provide compliant and efficient e-commerce websites.
Hire Experienced Magento Developers in a Flash
Talentica will vet them for you.
Magento Developer Main Tech Skills
Professional Magento developers should have experience in building eCommerce platforms, strong knowledge of Magento key features, and a mindset focused on creating efficient eCommerce websites.
As Magento is written in PHP programming language, people who want to work as Magento developers should master PHP skills. Apart from PHP, Magento programmers must have strong knowledge of web development tech stack that includes JS, HTML/CSS and/or Java, Python, Ruby, etc.
Magento developers know how to design and use databases to access and organize the data. Magento is tailored with MySQL, so the developer should be familiar with MySQL syntax, SQL data types, queries, and statements.
Magento is one of the most complex eCommerce platforms. So, developers should have exceptional knowledge of its components, architectural layers, modules and extensions, and coding standards. Magento developers should also possess a certificate that confirms their platform knowledge.
Eсommerce Website Development Lifecycle
E-commerce websites have specific business requirements, and Magento programmers must know how to meet them. Thus, they should be aware of how to create eCommerce customer solutions, catalogs, shopping carts, etc.
Magento developers are also expected to know Magento SEO best practices. For example, how to create SEO-friendly URL structure, integrate meta information and optimize website performance.
How to Hire Magento Developer: 3 Ways
So, you have an idea for an eCommerce website to boost your business. Now, you need to find and hire Magento developers to build and launch your website. Here's what you can do to hire Magento developers.
Look For Magento Developers By Yourself
The Magento developers community has over 300,000 programmers. If you have enough time and energy, you can search for Magento developers on job boards, freelance platforms, social media, devs communities, etc. This approach is more time-consuming, but you'll have a chance to vet each dev personally.
Hire an In-house Recruiter
An in-house recruiter will take the task of searching and filtering people from your shoulders. So, you can meet only valid candidates and finalize the decision. However, you'll need to pay a salary to an in-house recruiter, so make sure there are enough tasks to delegate and the person won't end up on the bench.
Turn to an IT Recruitment Agency
IT recruitment agencies have expertise in finding developers that meet your business requirements. Hiring through the agency may reduce time on filling the position because the agency will find and assess candidates faster. Usually, agencies have a developed talent pool that allows them to quickly connect with the suitable candidates.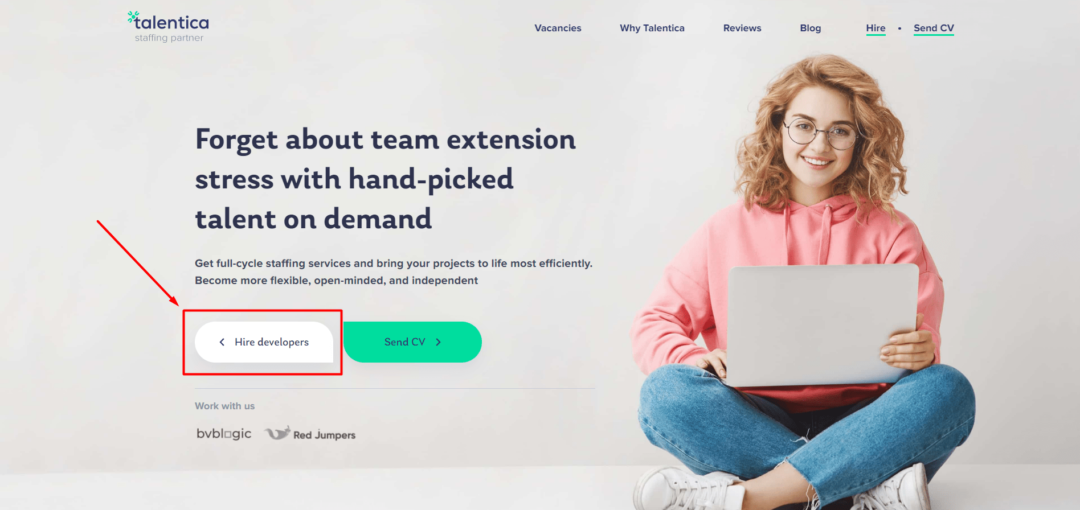 Reasons to Hire Magento Developer Through IT Recruitment Agency Talentica
Talentica is an IT recruitment agency that helps businesses outstaff qualified developers worldwide. The agency has been helping companies to find IT professionals since 2017 and has already united over 20,000 IT experts with more than 650 companies.
Our clients trust us because we aim to build long-lasting relationships with our clients. Apart from delivering processes, we focus on communication. Each client has a dedicated manager that ensures all your requirements are met and is ready to address your concerns.
Our services are streamlined. If you want to hire a Magento developer, you need to specify your project needs and we'll vet the candidates for you. We do our best to provide you with top-notch devs as fast as possible. Usually, it takes approximately 2 days after you sign the contract with us.
We have broad expertise in hiring devs with different skills. If you need to hire a Node.js developer, we can help you out. Just drop us a line, and we'll get back to you as soon as possible.
You're a few steps from a seamless hiring experience
How Much Does It Cost to Hire a Magento Developer?
Magento developers' compensation varies depending on the years of experience, tech skills, and the country from which you're hiring. Developers from the U.S. and Western Europe usually earn more than devs from Eastern Europe or Latin America. See the table below to compare Magento developers' salaries from different countries.
| | | |
| --- | --- | --- |
| in the US | in Ukraine | in Latin America |
| USD 99,916/year | USD 55,000/year | USD 45,000/year |
Conclusion
In the modern world, digital presence is crucial for business. And hiring professional developers defines how fast and efficient you can launch your business online. So, you should make an effort to hire the best devs for your business to succeed. You can do it by yourself or use the services of professional recruiters. We hope our advice will help you find the perfect match and skyrocket your business.
Faq
What is Magento used for?

Magento is an eCommerce platform written on PHP that is used to build, scale and maintain eCommerce websites.

How Can I Hire the Best Magento developer?

If you want to hire a Magento developer, you can search for candidates by yourself on job boards, social media, or freelance platforms. The best way is to ask a professional agency such as Talentica for help. IT recruitment agencies have experience in searching and filtering tech specialists so you could concentrate on business processes.

How Much Does it Cost to Hire a Magento Developer?

Depending on the Magento developer's expertise, the annual salary can range from USD 77,000 to 115,000 in the U.S. and from 30,000 to 60,000 in Ukraine and Latin America.