How to Hire an eCommerce developer
Have you ever bought online? Or, at the very least, have you ever searched for items online? We are certain you will respond "Yes." And it is fairly obvious. More and more people are choosing online businesses over brick-and-mortar establishments as the eCommerce sector is expanding very quickly. As a result, we are seeing an increase in demand for bespoke eCommerce development services from companies that have decided to go online.
In the US, more than 74% of people made purchases online in 2021, and by 2025, it is anticipated that 80% of people will be involved in online commerce.
The increasing demand for online consumption has propelled the expansion of eCommerce since the beginning of the digital era. Every business, from startups to multinational enterprises, needs the help of an eCommerce development company to stand out from the crowd and continue to be relevant to its target market.
Do you want to benefit from having a fantastic custom online retail eCommerce platform and boost your revenue? Do you want your brand to be recognized by customers worldwide? Here are described the ways to hire eCommerce developers.
Let's get started!
Why should you hire an eCommerce developer?
By 2040, retail eCommerce sales are expected to make up 95% of all sales, and by 2021, more than 93% of all Internet users worldwide will have made an online purchase. And while the biggest online retail markets like Amazon, eBay, or Craigslist are the most well-known, leveraging eCommerce platforms is especially important for small and medium-sized businesses that want to promote their brands.
An eCommerce developer is a professional familiar with the platforms and technologies frequently utilized in developing eCommerce solutions. A development expert offers years of knowledge, resources, and guidance in various important areas to keep the business running smoothly.
It might be difficult to find the ideal option for your eCommerce company. However, you can recruit competitive eCommerce developers if you put in a lot of work.
Hiring an eCommerce developer would allow you to look into professional and experienced developers for your eCommerce company strategy. They invest a lot of work into creating distinctive digital shopping experiences that may produce a lot of money and profit. The following are some of the strongest benefits of hiring eCommerce developers
Technology
They are tech experts who develop the most competitive e-commerce applications using the most modern technological tools and techniques.
Expertise
eCommerce specialists stay current with emerging trends and technologies in the eCommerce development sector. Developers have access to highly competent programmers, cutting-edge technology, the most important infrastructure, a productive environment, a professional attitude, and reliable ideals.
Customized Services
One of the best things about working with eCommerce developers is that they offer original solutions that raise brand awareness for your business. When building your online presence, they incorporate crucial features like multiple language support, shipping rate calculators, customer social classification, colorful displays and options, user-friendly shopping cart solutions, highly secured payment gateway integration, and many more.
Minimum Capital Investment
Spend less on development by working with an eCommerce developer. Capital expenditures like software, programs, and workstations shouldn't be overly costly. Employing developers would enable you to reduce wasteful spending.
Option for Flexible Hiring
Most clients use flexible hiring packages to recruit developers and designers to save money. When examining hourly prices, we found that the market average for developers is $60.00, and the usual cost for designers is about $30.00. Depending on your project, you could hire an eCommerce developer on an hourly, weekly, or monthly basis. Alternatively, you might employ workers on a project-by-project basis.
Communication
Developers are accessible to work for multinational clients in different shifts. No matter where you are staying, they will accommodate your schedule and preferences when serving you. They also offer crucial phone, email, and messenger communication capabilities. You could anticipate greater quality and customer service when employing an eCommerce developer.
What is the Role of an eCommerce Developer?
When hiring eCommerce developers, you should know the duties they may carry out for your project. They may be responsible for the following:
creating user-friendly websites with intuitively obvious navigation to provide the greatest possible buying experience for users;
maintaining a website's structure to keep it compatible with various hardware and browsers; designing websites;
creating online storefronts utilizing a platform for online stores, such as Shopify, WooCommerce, PrestaShop, or Magento;
establishing and maintaining an online library;
establishing and putting into practice procedures for connecting a website with backend systems, such as pricing, stock, and client databases;
by promptly discovering vulnerabilities and averting potential dangers, ensuring the security of websites and mobile applications;
checking that system performance indicators adhere to specifications to the letter;
participating in the debate of potential additional capabilities;
teaching company owners how to utilize the system properly.
Some responsibilities and needs for eCommerce developers may naturally vary based on your project's specifications and the makeup of your team. For example, a sizable portion of your work would be technical if your organization wants to install Magento capabilities. It makes sense to hire an eCommerce developer with suitable experience. Examine all the essential abilities and credentials in advance to avoid unpleasant surprises once you begin working with developers.
Increase the efficiency of your company by hiring a skilled eCommerce programmer
What Are the Main Tech Skills of an eCommerce Developer?
Of all eCommerce careers, eCommerce developers have the highest technical requirements. The requirements for this position are more precise than those for other positions since it involves developing, running, and optimizing an eCommerce website.
Unsurprisingly, one of the essential skills an eCommerce developer may have is the ability to design a useful and user-friendly eCommerce application. Even if they have never used a dropshipping application builder or a subscription application builder before, they can easily design some of the best dropshipping websites with a little work. The architecture of your eCommerce program should make it straightforward to accept many payment methods, including ACH payments.
Most of the time, eCommerce developers are web developers with specialized knowledge of the platforms and technologies used by eCommerce companies. The following are the key competencies of an eCommerce developer:
CSS, XML, HTML
JQuery, JavaScript, Node.js, and Dojo
Amazon, eBay, PayPal, and Authorize.net
Rail in Ruby
Photoshop, XHTML, and Python
Facebook, YouTube, Google Analytics, and Google Checkout
Restful APIs and framework expertise
Big Commerce, 3dcart, CMS, Joomla, Magento, etc.
eCommerce portfolios of projects
strong communication abilities
team player
Once an application is created, it has to be able to rank in search results to draw users. The finest strategies for raising an application's rating should be known to an eCommerce developer. This includes SEO tactics for both on-page and off-page factors.
Last but not least, an eCommerce developer has to understand data and know how to use it. This suggests they should be able to convey it to others easily and put it into practice to support the business's success. This material may be useful to shipping and handling businesses, 3PL firms, marketers, warehouse inventory management software, and anybody learning how to run a warehouse.
Note: while discussing eCommerce developers, these professionals should be highly technical and knowledgeable about the specifics of the sector. Developers should be aware of marketing trends and SEO concepts to create an online store that will draw customers, as creating an eCommerce product requires much more than coding.
The Best Way to Hire an eCommerce Developer
What then should you look for in a software developer? (Actually, these guidelines apply regardless of the specialty you are interested in.)
When creating a working website for your e-commerce firm for the first time, hiring a developer might be a challenging procedure. But as we'll demonstrate, if you take the proper steps, you shouldn't have any concerns.
Here are some crucial steps to choosing a web developer:
Step 1. Make a project plan for your website
Make sure you understand what you want to accomplish before searching for a developer.
In particular, if you're adding customized features to your e-commerce website, a shoddy plan is preferable to none. It assists you in identifying the adjustments you must make and creating a better assignment description. It saves time, clarifies your expectations for your developer, and establishes the project's parameters.
Using a project plan, you may easily allocate duties among your team members.
Step 2. Create a budget.
You may set a budget for your website project once you've determined all the stages you need to do. Budgeting is essential in this procedure since it ensures that resources are distributed effectively throughout your project.
It can be more expensive to redesign your complete website than to only change a few aspects. Additionally, it will cost you a little more to add additional back-end functionality, APIs, or app development than it will alter your website's design, color scheme, or user interface.
Step 3. Choose the developer type
You must select a qualified developer for the job if you want your project to be successful. This developer will frequently have the ideal ability set and understanding of the programming languages needed to fix your website challenge or construct what you want.
Choose a website designer or front-end developer. A front-end developer proficient in HTML, CSS, and JavaScript would be ideal.
You may also like: Guide to Custom eCommerce Platform Development
Step 4. Post job
A few years ago, you had to contact each qualified applicant for your website position by looking through the local ads. It will be considerably easier to handle in 2022. As a business owner, you may easily post job openings on various job sites to hire programmers. Here are a few examples:
For WordPress developers – Codeable.
For independent web developers – Upwork.
Despite its age, Craigslist still has some excellent developers.
LinkedIn.
To find the perfect candidate, you should know his expertise and other factors, or contact some recruitment agencies to do that instead of you. One factor that may affect your choice is a strong CV that you may get from the candidate, but it is not the most important. You should:
Ask for a portfolio and ensure you view the candidate's actual portfolio rather than simply a file they obtained on the internet.
If you want to engage an eCommerce development company or a freelancer, read the testimonials and suggestions beforehand (if you are hiring an in-house engineer).
Typically, candidates are simply asked broad questions by HR professionals. However, we advise you to bring in technical specialists for the interview. They can test a candidate's technical expertise by asking questions.
Avoid trying to save costs on engineers! We want to arrange our budgets as efficiently as possible, but if a candidate's rate is much lower than the market average, it should make you think carefully. For instance, an eCommerce developer in the US typically charges $30 per hour.
There are several possibilities for you to hire specialists as in-house developers, freelancers, or even a dedicated team based on your needs for building eCommerce websites or any other software products. Keep reading what we outlined below.
Freelancers
This variation is widely used nowadays. Many businesses choose it. You can disregard your vacation and sick days. You won't be able to control them, though. Although many capable and responsible programmers prefer to work alone, there is a great chance that you'll hire someone who will let you down
Furthermore, your collaboration with a freelancer normally ends after a software product is developed. And if you need assistance or technical support in the future, this freelancer may be unavailable or just too busy working on other projects.
In-house developers
For businesses with IT departments confident that expanding their personnel would be wise, this is a solid alternative. But before assembling an in-house team of developers, you should reconsider if your business is a small startup or has never worked with software development.
Dedicated team
Another smart move for your company is outsourcing. A committed development team prepared to satisfy your demands is available for cooperation. You can expand your team's skill set or reduce its size at any time and lead the team, and they are committed to your project. However, you may unwind while handling administrative responsibilities like recruiting and onboarding. This method of recruiting eCommerce developers includes all the advantages of working with independent contractors and hiring in-house experts.
So now that you know which person you need, you can contact some recruitment agencies like Talentica to find eCommerce developers effectively and quickly.
Talentica is a recruiting agency that works according to the outstaffing model. The IT business We have a staff of qualified and committed resources that offers resources to any enterprise and help businesses discover qualified remote software developers. Our approach is simple: we identify the top software developers by evaluating their skills across various domains and connecting them to your particular requirements. Check out the website now to build eCommerce tomorrow here.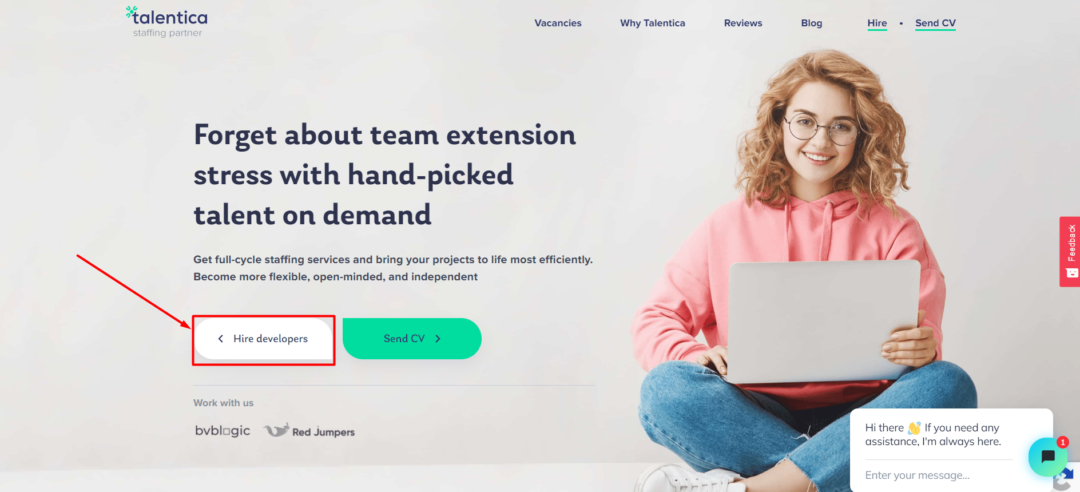 How Much Does It Cost to Hire a Shopify developer in:
To comprehend the predicted cost better, it would be helpful to have a thorough awareness of the cost-affecting factors. A dedicated team of developers or a cost-effective eCommerce developer may be hired from many different countries across the world;
Years of experience
Portfolio
Project's functions and complexity
location of the developers
Developers' hourly rates
hiring style. i.e., full-time or part-time.
We will go into more depth below since, among the previously mentioned factors, the location and hourly rates of the developers are interdependent.
| | |
| --- | --- |
| The USA | $100 – $149 |
| Great Britain | $50 – $99/hr |
| Western Europe | $80-140 |
| Eastern Europe | $50 – $99/hr |
| Latin America | $30 – $50/hr |
| Ukraine | $35-60 |
| Australia | $50 – $99/hr |
| India | $15-30/hr |
The prices above make estimating the initial cost of hiring a developer for an eCommerce business difficult. However, knowing the estimated cost might help you choose whether to hire the developer of your choice.
Conclusion
The future belongs to businesses that have gone digital, as seen by the success of websites like Amazon, eBay, and AliExpress. However, it is more difficult than it seems to build a successful eCommerce platform. Any website needs careful attention throughout the development phase and after publication.
Nowadays, it would be nearly difficult to operate a firm without eCommerce. A working program must be built from the ground up, and you must work with an eCommerce developer to modify an existing application. Establish your goals, make a budget, and don't forget to check the candidate's qualifications before hiring them.
Building a functioning eCommerce platform is practically impossible without the proper guy on your internal team. Retraining an employee is much more difficult than it appears.
At Talentica, we have a talented pool and can assemble a focused team to construct your online store while closely adhering to your specifications. Contact us, and we'll ensure you have the best developers working on your eCommerce solutions.
Faq
Who is an eCommerce developer?

The online shopping experiences that customers have come to anticipate are developed by ecommerce developers. They start from fresh when creating ecommerce websites and applications, frequently using a number of different platforms and technologies.

What are the stages of eCommerce development?

Website development includes several stages, including initial where a site is being developed and continuity stages when all features are in, and the site is tested and launched.

Which backend is best for eCommerce websites?

For small, simple sites, the easiest backend to use is HTML + PHP. For medium-sized sites, I would recommend looking into CMS (Content Management Systems) like WordPress and Joomla. For very large sites, look into PaaS (Platform as a Service) like Zend Server, Amazon's EC2, or Microsoft Azure. The PaaS systems allow you to focus on your business functions, while the backend is taken care of for you. If you want to improve the site's performance, you generally have more control in PaaS.

Is Python good for eCommerce?

The greatest programming language for an eCommerce website is Python, which is also quite popular and adaptable.

Which programming language is used for eCommerce?

For e-commerce websites, JavaScript is the most widely used and dominant programming language in the world. It is a straightforward programming language with a wide range of applications. Its ability to expand web pages beyond static capabilities makes it a top programming language.