Guide to Custom eCommerce Platform Development
If you're in a retail business, you've probably had a chance to experience how the pandemic disrupted the way people shop. According to a Raydiant survey, 55,6% of respondents prefer to shop online in 2022, which is 10% more than in 2020. The key reasons people choose online shopping include:
24/7 availability,
no need to leave the house,
availability of discounts.
Online shopping is taking the lead nowadays because it's convenient and easy to do. That's why brick-and-mortar businesses should consider creating an ecommerce platform to reach out to more customers and stay competitive. A custom ecommerce platform might be even more beneficial for your business as it can be tailored to your needs and highlight your uniqueness.
In this guide, we go through the most important aspects of creating a custom ecommerce platform each business owner should know.
The Current State of the eCommerce Market
In 2021 the global ecommerce market was valued at USD 3.86 trillion. The adoption of digital technologies increased usage of mobile phones, and improvement of IT infrastructure spurred the market growth. Precedence research revealed that by the end of 2030 B2C ecommerce market size will reach USD 7.45 trillion.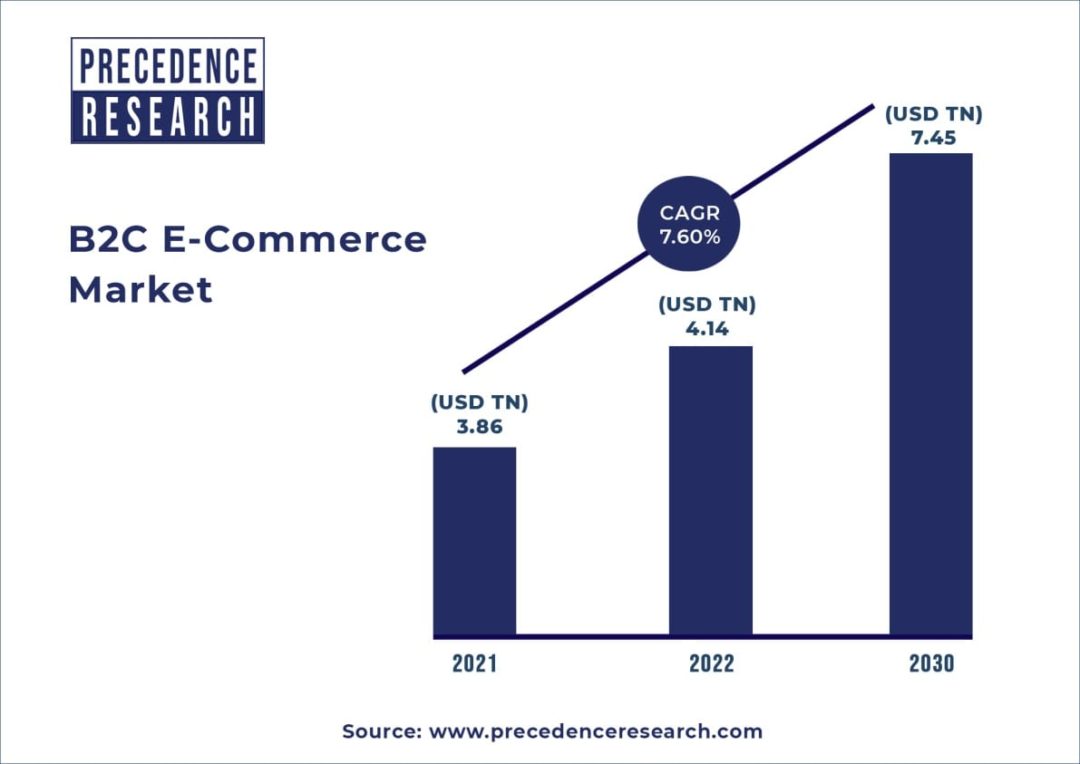 During the last 10 years, ecommerce embraced new strategies to attract customers. Social media and digital marketing, fast delivery, customer support services, and numerous payment options to choose from made ecommerce appealing to the global customer.
The covid-19 pandemic made online shopping a necessity for people in the at-risk group and became a convenient feature for everyone. The popularity of such ecommerce platforms as Shopify, Magneto, WooCommerce, and others will continue to increase and new ideas on how to improve customer experience and ROI will emerge. Thus, predicted ecommerce trends for the future include but aren't limited to:
Influencer marketing. Social media platforms are a great tool to promote goods to the right audience. Partnering with opinion leaders could bring even more outcomes considering 49% of customers rely on influencers' opinions on a product.
Seamless omnichannel experience. The buyer's journey nowadays isn't limited to one device, that's why providing a cross-platform experience and a single source of truth for ecommerce platforms is crucial for business success.
Personalized experience. Artificial intelligence, chatbots, and other digital tools are actively used to learn more about the customer and provide a unique experience for each of them.
Voice search. According to Google, 27% of people worldwide are using voice search on mobile. Being speech-query friendly may improve customer experience and increase business outcomes.
The Most Popular eCommerce Platforms
The market offers plenty of ecommerce platforms to help businesses expand their sales market and improve customer experience. If you're interested in launching an ecommerce website for your business, take a look at the types of ecommerce platforms you can use for your business.
Types of ecommerce websites
Single brand website
The website that has the basic functionality of an online store and represents a single brand.
Adidas, D&G, Ikea, etc.
Online retailer
A web platform representing a shop that sells a plethora of products of different brands.
Walmart, Best Buy, etc.
Marketplace
The platform that allows small businesses to place their products, manage prices, provide customer support, etc.
Amazon, BigCommerce, etc.
Each of the mentioned above platforms pursues a specific goal in business. If you're an owner of a small shop and want to expand your services, the marketplace is a good choice. Marketplace platforms offer dozens of user-friendly templates that are easy to set up and run.
For those who need to stand out, custom ecommerce site development is an opportunity to create a website that is aligned with your brand identity and tailored to attract more customers.
Want to launch a unique website for your retail business?
Outstaff top-notch developers.
Advantages and Disadvantages of Custom eCommerce Development Services
Ecommerce can be a successful business either fully online or expanded from a brick-and-mortar shop. As a business owner, you should be aware of all the perks and pitfalls ecommerce can bring you.
Pros of Developing Custom eCommerce Platform
Marketplaces could be attractive for business owners due to their ease of use and availability. However, a custom ecommerce platform has unobvious benefits that should be considered before a final decision.
Customer Satisfaction
Marketplace platforms, although they offer a wide range of functionality, still have their limits in customer experience. Instead of using a template and being one of the similar online shops, with a custom ecommerce website you can create a unique customer experience based on market research and please your customers. You can directly influence customer retention by improving customer experience at any stage of the buyer's journey and adding unique functionality to stand out from competitors.
Brand Integrity
Unlike marketplaces, a custom ecommerce website allows you to express your brand identity fully. You can create a website design that highlights the uniqueness of your product and show your customers that you care for the details.
Business Integration
If you already have an established business with aligned processes and culture, template websites may be inconvenient. Custom ecommerce websites don't disrupt key processes but can be seamlessly integrated into your business model.
Specific Features
Due to the limited functionality of marketplace platforms, they may not cover your business needs. For example, if you need to perform a credit history check on a customer or restrict access to people younger than 18 years, the custom ecommerce website is a better option for you.
Search Engine Optimization
Custom online store gives you more power to use search engine optimization and increase the customer flow to your website. With a custom ecommerce website, you can improve usability, add video content, choose the host for your website and create an effective website structure.
Custom eCommerce Platform Development Downsides
Although a custom ecommerce website can be helpful for your business, creating one requires more effort than using a ready-made solution via marketplaces.
Time to Build the Platform
The timeline for building a custom ecommerce platform is more prolonged than launching an online shop with the help of a site constructor. Because you're going to plan and implement your platform from scratch there are more things to do. For example, you'll need to hire developers and designers and create a website prototype. An average time to build a custom ecommerce platform is nearly 6 months. However, depending on the site complexity you can launch one in three months.
Initial Investments Are Higher
Marketplace platforms usually take a monthly fee from entrepreneurs for access to platform features. The cost can vary from USD 100/month to USD 2000/month. When you create an ecommerce site from scratch, you'll need an initial budget for software development services, marketing, and design. It may be costly at the first sight, but the expenses will reduce once you get your site up and running.
Website Technical Management
If you would own a custom ecommerce platform, you would need to make regular updates, QA testing, and maintenance to provide seamless usability. Technical changes and updates require involving developers in the process again.
How Much Does It Cost To Build An eCommerce Website?
Depending on the site complexity, the time and price for development will differ. If you need basic features such as product and category pages, shopping cart, checkout, and pain page the expenses won't go higher than USD 15,000. However, building more complex sites will require more time, and since developers usually charge hourly rates, the cost to build a custom ecommerce site will increase.
Guide to Custom eCommerce Platform Development
Looking for cost-effective professionals for your project?
Start growing your business with us!
You should also consider third-party integrations, hosting SEO, and marketing expenses when creating a custom ecommerce website.
Cost to Hire an eCommerce Programmer in Different Countries
The custom ecommerce platform is a handy solution for businesses of any size. However, budgets have limits, so entrepreneurs have to make cost-effective decisions. That's why you should be aware of where to hire developers.
You can either hire developers locally or outstaff an entire development team offshore. Here are the approximate hourly rates of developers worldwide.
Development cost by region
Region
Hourly rate
The USA
$110-180
Great Britain
£90-170
Western Europe
€80-140
Eastern Europe
$30-75
Ukraine
$35-60
India
$15-30
If you want to hire developers from another country but don't know where to find decent candidates, you can turn to a recruitment agency to hire developers. The agency takes care of searching, filtering, and interviewing the candidates to find professionals that meet your requirements. Talentica has access to a talent pool worldwide and has already helped +650 companies to find the best developers for their projects.
Conclusion
It's hard to imagine a modern retail business without an online presence. Ecommerce platforms help businesses survive social and economic changes, attract and satisfy more customers and expand their market. For those, who just started their businesses, setting up an online shop on a marketplace platform is a good option. But If you want to make your brand recognizable and provide a unique customer experience, a custom ecommerce platform is the right choice.