How to Optimize Your LinkedIn Profile For Job Search
LinkedIn is a social media platform dedicated to professional networking. It gives you handy features for professional communication and includes useful tools for job searching and personal branding. LinkedIn is also a place where recruiters search for talent. Statistics say that LinkedIn is the most used social media platform for recruitment efforts.
Finding a job through social media has become the new normal. 73% of millennials found their jobs via social media. Nowadays, companies expect you to have a LinkedIn profile because it helps recruiters create an image of you as a professional.
The important thing is that recruiters spend a tremendous amount of time searching and filtering candidates. So, there's a chance for you to be proactive and help them reach out to you faster. To do that, you need to know how to set up a search-engine-friendly profile and stand out from hundreds of potential hires.
In this article, we analyze in detail each profile component and share tips on how to build a competitive LinkedIn profile.
What Is a LinkedIn Profile? Why do you need it?
LinkedIn profile encompasses all the information about you as a professional including your skills, years of experience, former employers, etc. Moreover, because LinkedIn is a social media, it allows you to share any work-related information in posts, leave comments, contact colleagues from all over the world, celebrate achievements, receive feedback, and more.
We believe you've noticed that companies often ask for the link on your LinkedIn profile in an application form. So, here's one reason why you need a LinkedIn profile – to comply with the company requirements. The other reason is to make a good impression on the potential employer because having a fully setup profile helps you to:
build trust with recruiters,
demonstrate your strengths,
provide proof of your skills and expertise,
highlight your communication skills,
show initiative and reach out to the companies yourself.
If you're interested in finding an in-demand job for 2022 and beyond, the LinkedIn profile is one of the greatest tools to boost your career.
Who is the target market for LinkedIn?
LinkedIn's main audience includes business professionals, companies, and HR specialists. The platform is global as 70% of LinkedIn users are outside the U.S. So, you have a great opportunity to find a job abroad.
As a social media, LinkedIn has targeting tools and a search engine. This is important because recruiters use those tools to find candidates. Knowing what strategies HR specialists use to find talent is handy when crafting your profile. Let's see how.
The picture below represents the advanced filtering dashboard that HR experts use to search for candidates through LinkedIn.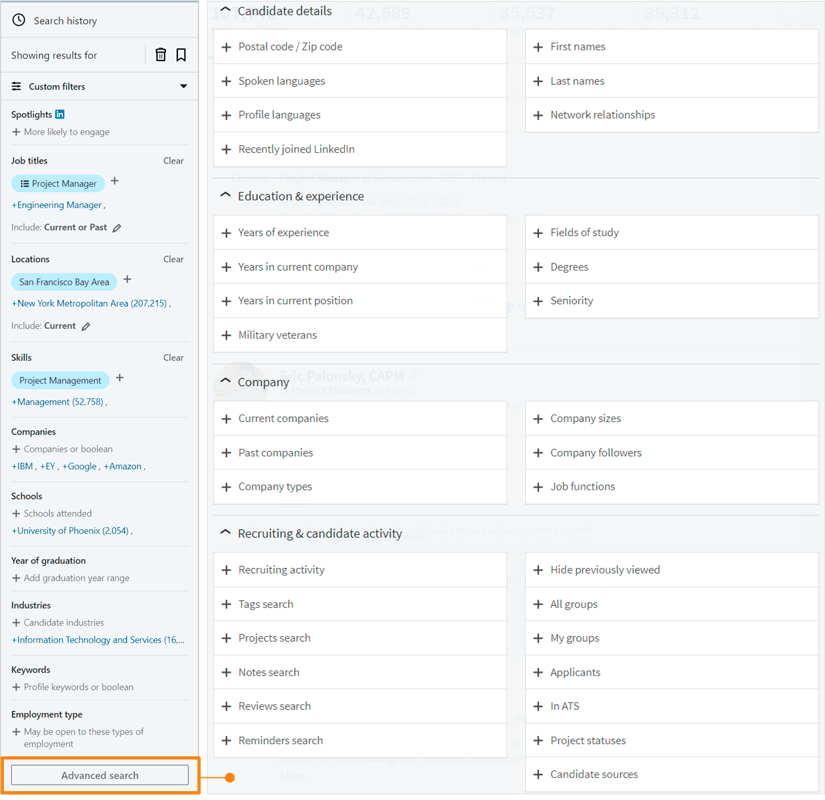 LinkedIn allows recruiters to narrow down their target audience based on many filter options. Standard ones include job title, location, skills, company, education information, etc. On the right side, you see the advanced filtering options. Take a look at highlighted ones. This is an example of how the smallest details can be to your advantage.
So, tip number one: Fill in your profile information as detailed as possible.
One more feature that requires your attention is the 'keywords' filtering option. Yes, LinkedIn indexes content to optimize search engine results. If you use proper keywords on your profile, the chances to be visible to recruiters increase.
Think of job-specific words that might be keywords. You can check the accounts of your colleagues from other companies to find out what keywords they use. Say you are a web developer and your key tool is Angular. Possible keywords could be Angular developer, Angular software engineer, web development, etc.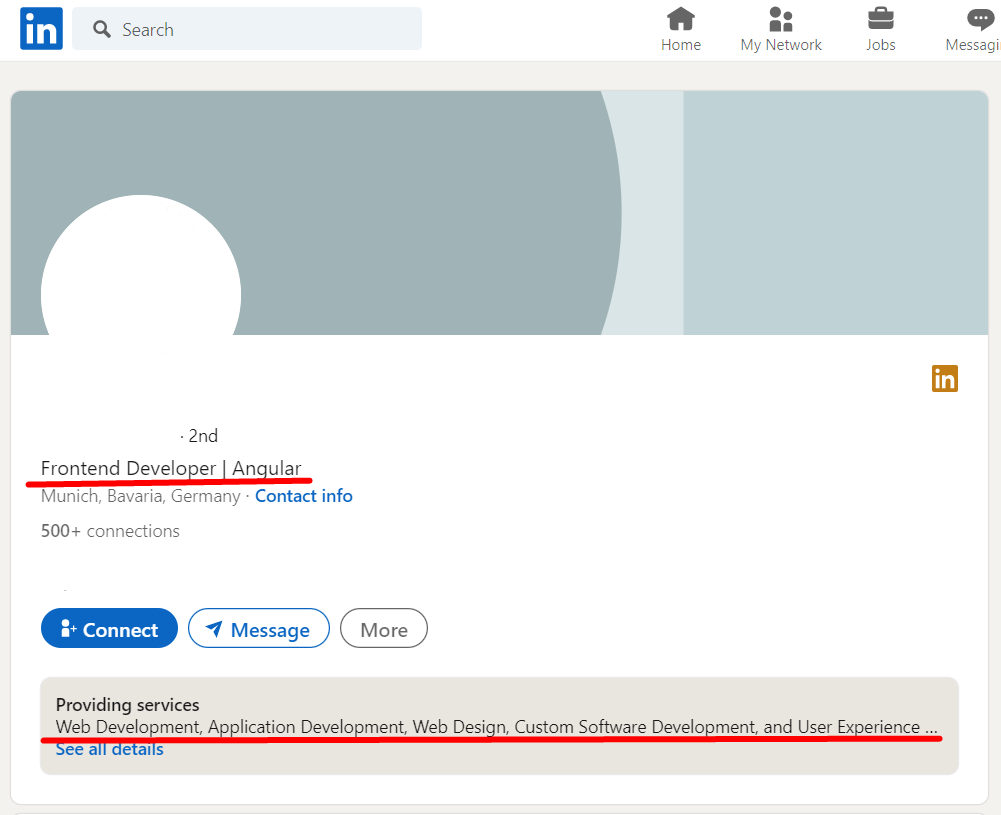 Keywords can be associated not only with your job title but also with your hard and soft skills, job functions, projects you worked on, etc. Check job descriptions and companies' websites to get more ideas on who they are looking for. Keep those words in mind when filling in your profile, it's best to include some of them in each section.
Pro-tip. You can use online tools that assess the frequency of used words in a certain piece of content to make sure you've picked your keywords right.
How to Create and Optimize a LinkedIn Profile?
Now that you know what LinkedIn is for and how recruiters look for candidates, let's go through each step of creating a LinkedIn profile and tips on how to optimize it.
Sign up for LinkedIn
First, you should sign up for LinkedIn. The process is straightforward. You'll see that LinkedIn will ask you for the basic information to help you start looking for a job right away.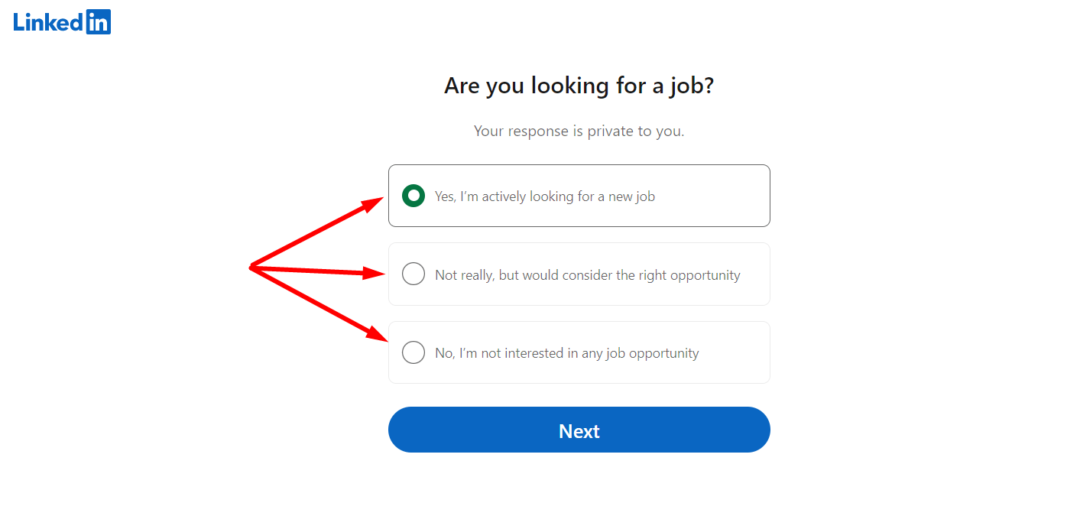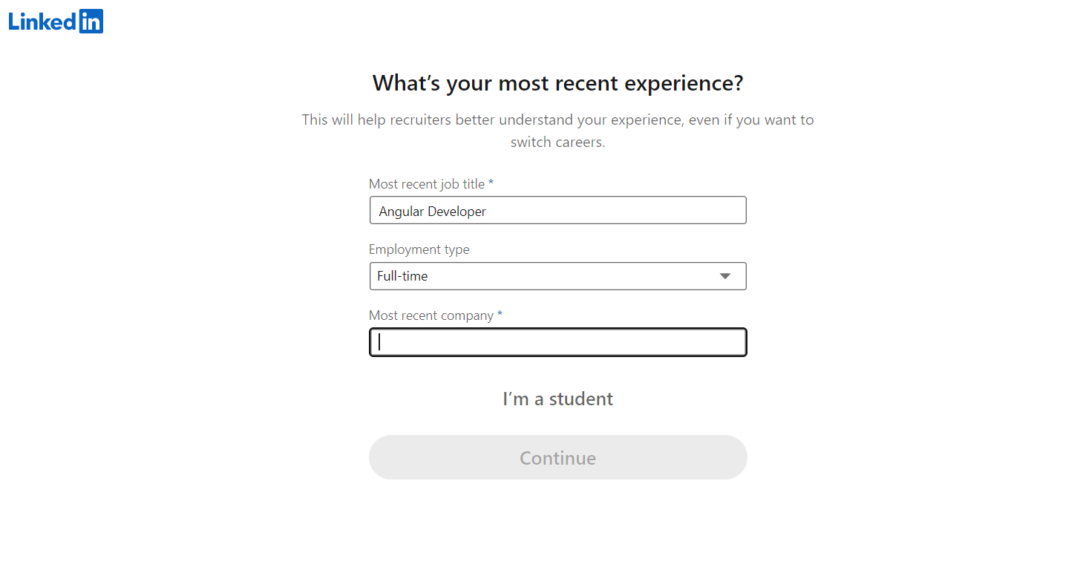 When you go through the registration steps you'll be redirected to a job board where you can see open positions that match your profile.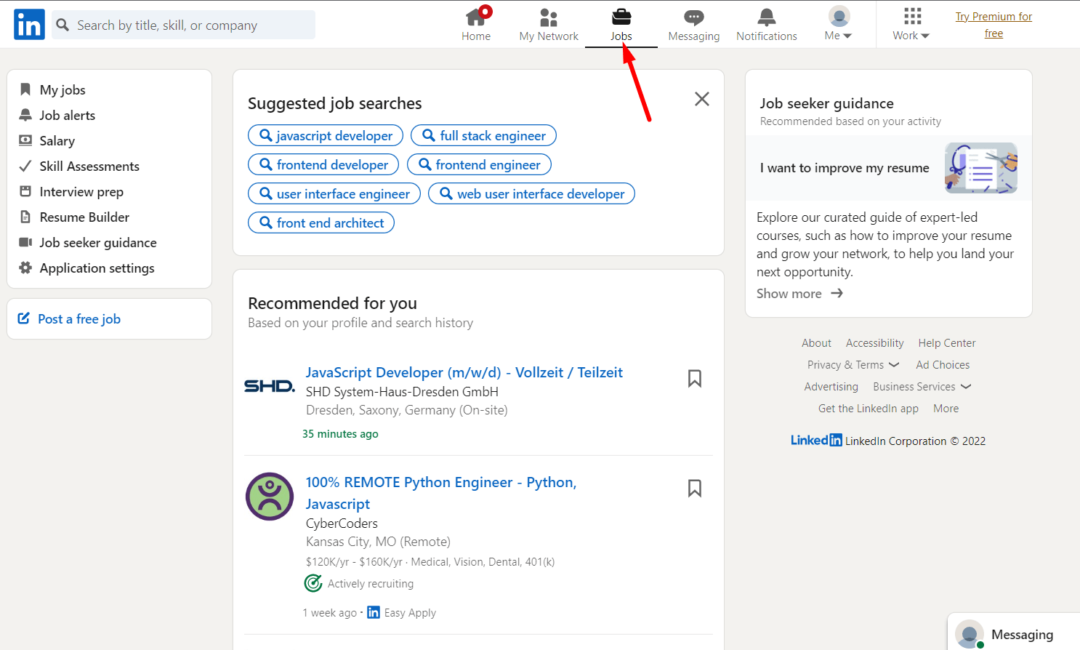 However, we recommend filling in your profile information in detail before you reach out to employers. If you go to the "Me" section, you'll see that your profile is blank.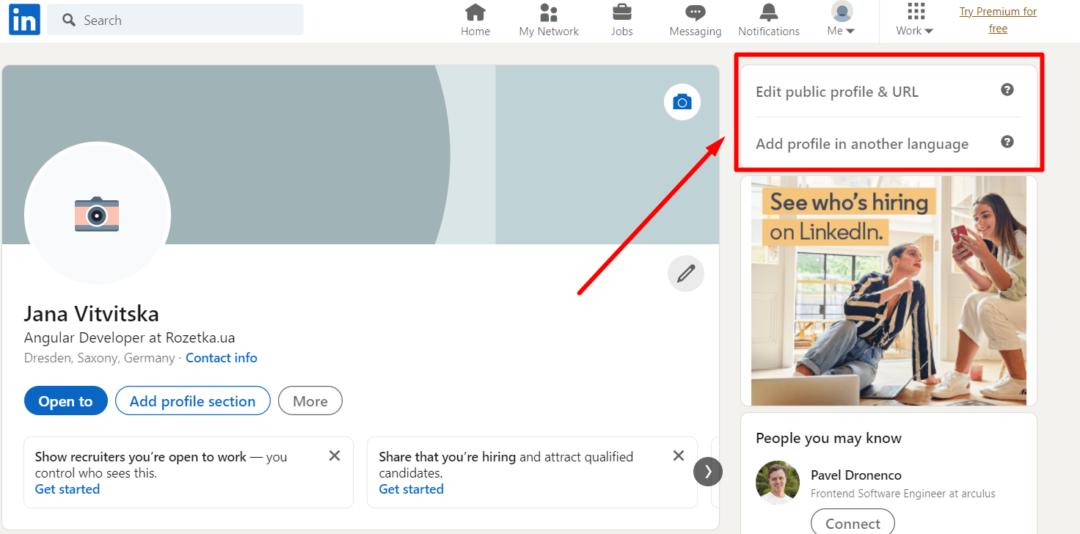 You'll also see that LinkedIn gives you hints about your next steps in creating a great account.
Customize your URL
LinkedIn allows users to personalize profile URLs. We suggest putting your first and last name so that the link is readable and easy to remember. Moreover, Google will index your link, so your visibility on the Internet will also increase.

Setup profile header
Profile header shows people your name, photo, position, current employer, and contact info. It's crucial for a positive first impression. Here's what you can do to make your profile header noticeable:
Choose a professional headshot where your face is visible. Wear appropriate clothes and make sure the background is neutral.
Add your first and last name without other information (nickname, degree, etc.).
Brainstorm a powerful headline. The headline tells readers who you are, what you do, and what you are good at. It may include your current position, certifications, your motto, etc. See the examples below for inspiration.
Pro-tips:
The well-composed headline makes recruiters click on your profile, so make sure it's readable and gives you credibility.
Use the #openToWork filter on your image. When applying this filter, LinkedIn sets your profile in "open to work" mode and makes you more visible to recruiters.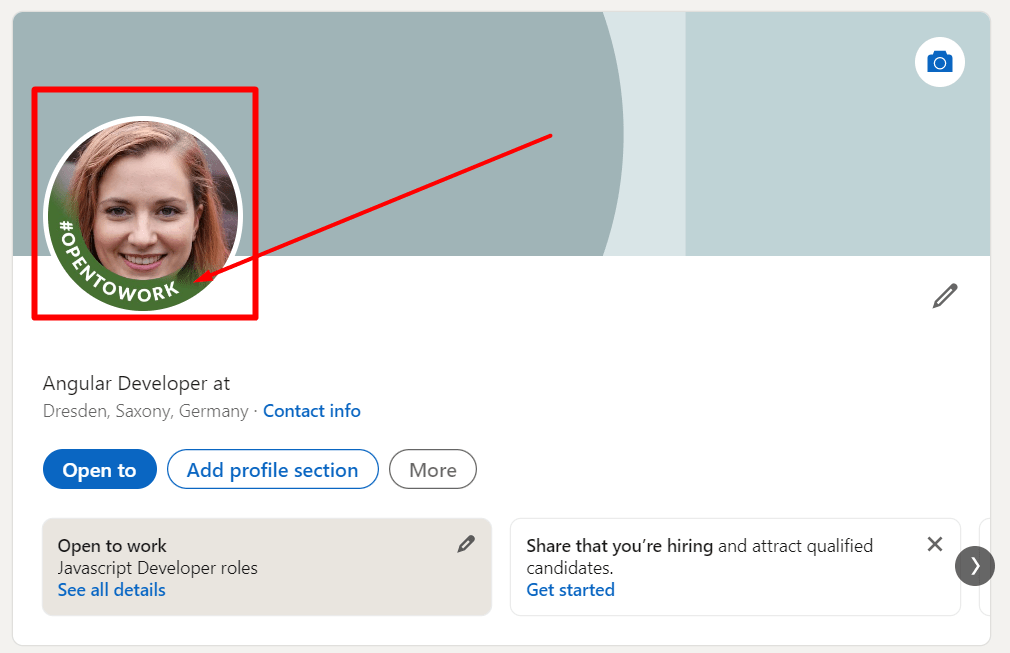 Add a distinctive profile summary
Profile summary is a short text (approximately 2 paragraphs long) about you as a professional. In summary, you can describe your career path, experience, and achievements, highlighting the facts that make you unique. Profile summary is much like a resume summary but on LinkedIn, you can show your personality and make your story appealing. The example below shows that a person strives for improvement and is open to sharing experiences.

Pro-tip: LinkedIn allows users to add multimedia to their profile summary. You can post videos, presentations, links, and your CV to back up your story with evidence. Short video self-presentation can show recruiters your personality and make you memorable.
Add skill section
The skill section may include up to 50 skills, however, only the top 10 are the most relevant as they will be visible on your profile page. Try to add the skills that you've mastered at a high level first. Statistics say that 40% of companies rely on the 'skills' filter when looking for candidates, so don't forget to include keywords in the skill section.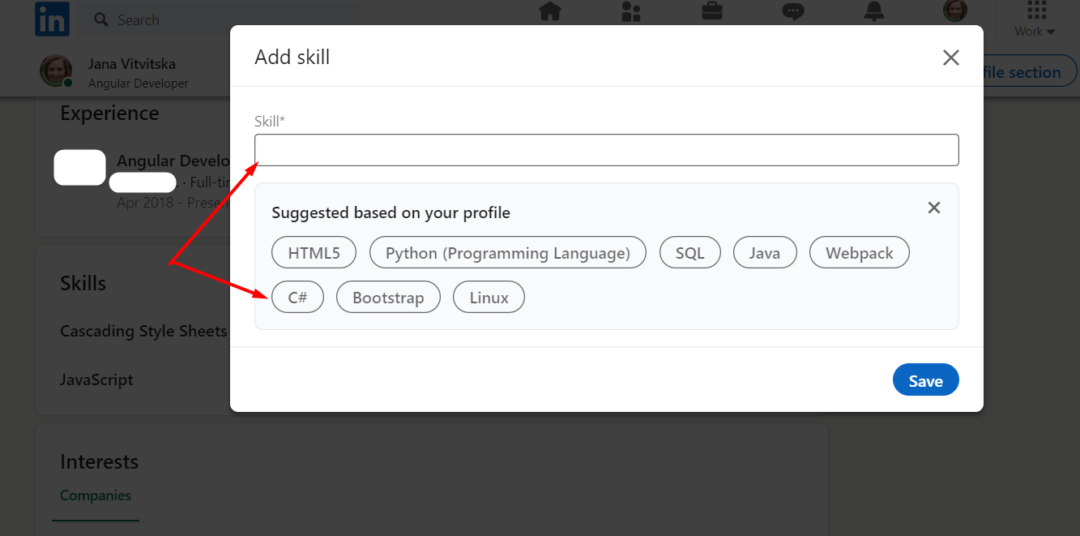 Pro tip: When you add a skills section, LinkedIn offers you skills based on your job title and keywords that recruiters frequently used to find specialists like you. Don't ignore suggestions, if you want recruiters to reach out to you faster.
Endorsements, badges, and certificates
LinkedIn helps you to collect evidence of your experience with endorsements, badges, and certificates.
Badges. When a list of your skills appears on your profile, you can earn LinkedIn badges to prove your knowledge in your field. To grant you a skill badge, LinkedIn will ask you to finish the quiz. You need to score in the top 30% to earn the badge.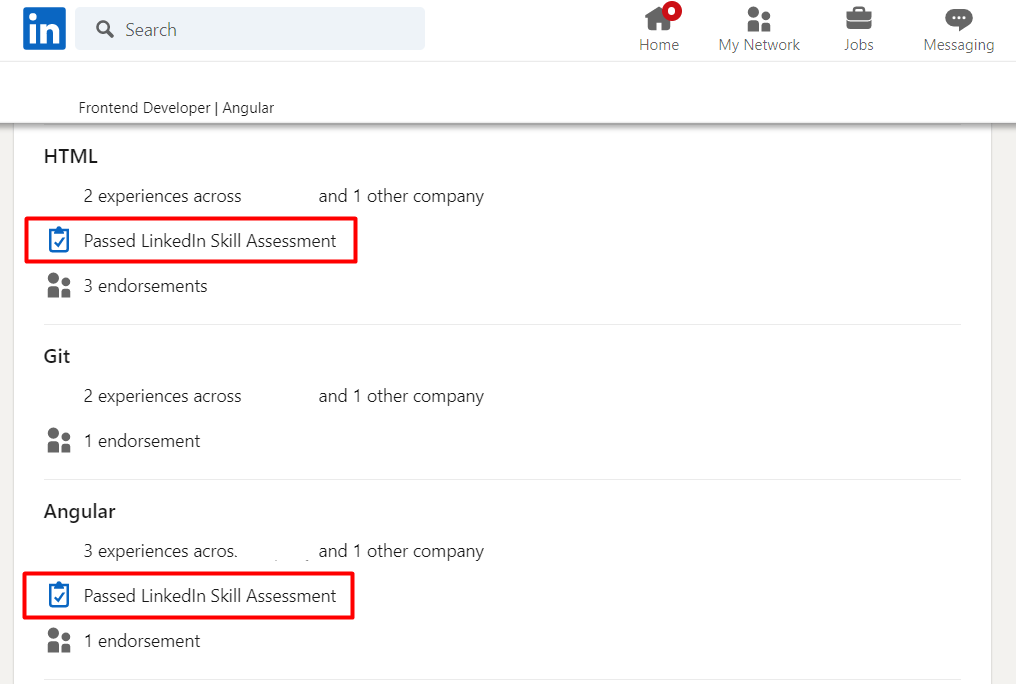 Pro-tip: Skill badges are useful when searching for an open position on a job board. You'll see the note that tells you may be a fit for the position.
Endorsements. Endorsements tell recruiters that other people acknowledged your skills while working with you. Don't hesitate to ask your colleagues and former employers to endorse you and leave comments to help you show credibility.
Certificates. If you've earned any third-party certificates, you can also upload them to your profile. Relevant and up-to-date certificates will show recruiters that you're interested in your professional development and industry.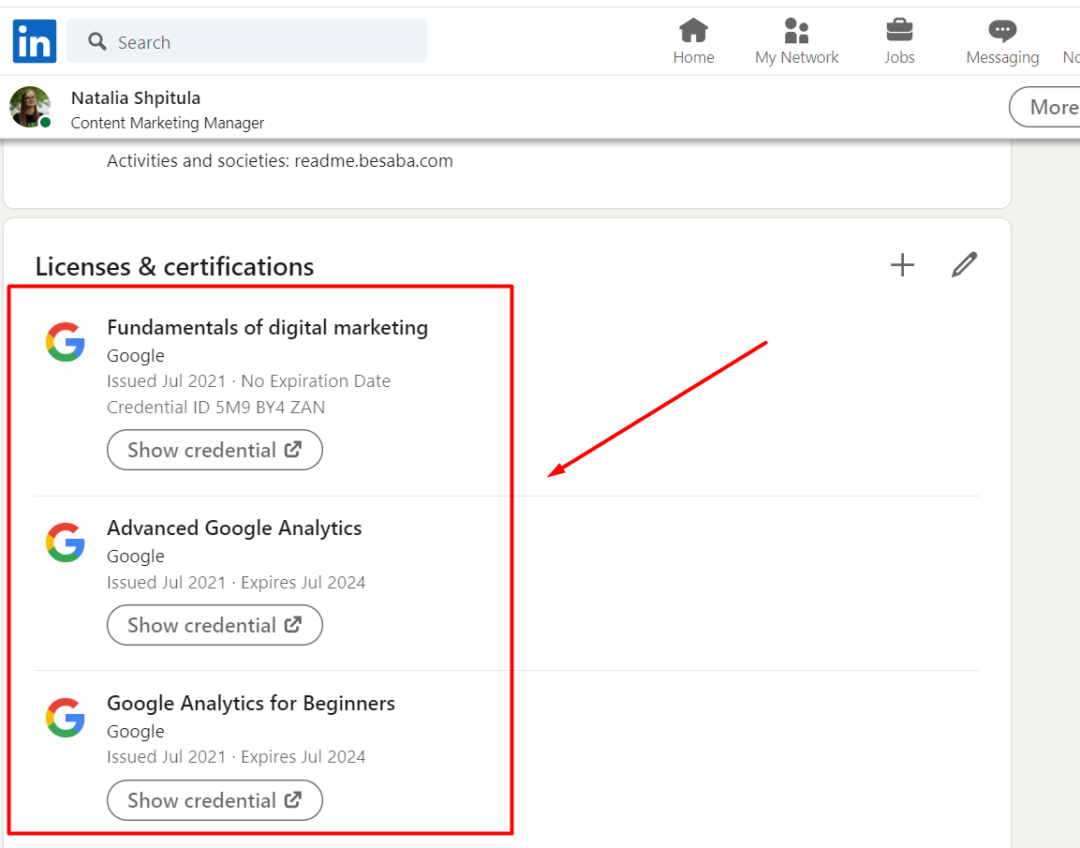 How Talentica Can Help You Get a Job
LinkedIn profile is a must-have for modern job seekers. It gives you a chance to meet online on a professional level and significantly expands the geography of employers for you.
However, looking for a job can be a daunting task. Constant communication with recruiters and assessing companies' credibility take energy and time. If you need some free time, you can turn to a recruitment agency such as Talentica.
Talentica connects IT specialists with credible employers from Europe and ensures the work process complies with your contract. We handle communication with the employer for you so you can focus on your work.
Ready to boost your career?
Conclusion
LinkedIn is not limited to the tools of promotion and optimization of a professional account that we discussed above. We encourage you to dive deep and try all the features that may bring you closer to your dream job. If you need professional advice in finding a job in IT, you can always contact us.