How Not To Ruin an IT Interview — 10 Tips for Designers & Other Professionals
My name's Serhii Malei and I'm the design team lead of Livebeam, a product from venture builder SocialTech.
Based on my management and mentoring experience, I've gathered key tips for choosing a company to work for and preparing for an interview to increase your chances of getting the job you want. Also, I share my thoughts and recommendations on my Telegram channel Malei Desing.
1. Follow the principle: first you choose the company, and then it chooses you
That's a general approach to choosing "your" company.
Since we spend most of our time at work, it is crucial that this work drives and brings pleasure. Without a doubt, you can work for financial reasons only, but I believe this approach is not a long-term one. If it's a product company, you should be passionate about this product.
Therefore, we should pay great attention to WHERE we are going to work, WHAT we are going to do, and WHO we are going to work with. When you find the "right" company, your desire to join the team will be sincere and powerful, and the employer will definitely appreciate it. This will influence all further interview stages.
2. Get to know everything about the company
This step seems obvious, but not everyone pays enough attention to it.
Start by reading the job description — find out about the responsibilities and challenges of the position, the size of the team, working conditions and schedule, whether it is a remote or in-office position, etc. Once done, write down any possible questions to ask them during your interview.
Want to know about the specifics of the job? Learn which team they're hiring for. This might indicate both your potential areas of responsibility and the type(s) of specialists you're going to interact with.
For example, in a marketing team, a designer can expect to deal with creatives, landing, and other promotion-related products. You aren't likely to work with complicated interfaces here.
Looking for career development? Ask if they can offer a mentoring program and a personal development plan, and how you can grow within the company. Find out about the team members, since they're the main learning source. The more experienced your potential colleagues are, the faster and more versatile your learning experience will be.
Apart from reviewing the job description, it is worth checking out the company's website and getting to know its activities and values. Read about the team, their products & services, and check their social media accounts and articles in the media (if any). This will give you a better understanding of the company's scale and market reputation.
You can also check reviews on DOU to gather additional feedback from staff and applicants.
3. Personalize the company
It's also useful to get acquainted with the company's employees. For example, you are applying for a designer job position. Use LinkedIn to find and check the design team lead's profile. Analyze what they post on social media and what their hobbies and achievements are. This will help you understand whether you'll feel comfortable communicating and working together prior to the interview.
Being prepared like this will be a plus during the interview since you and your lead will be able to discuss common topics.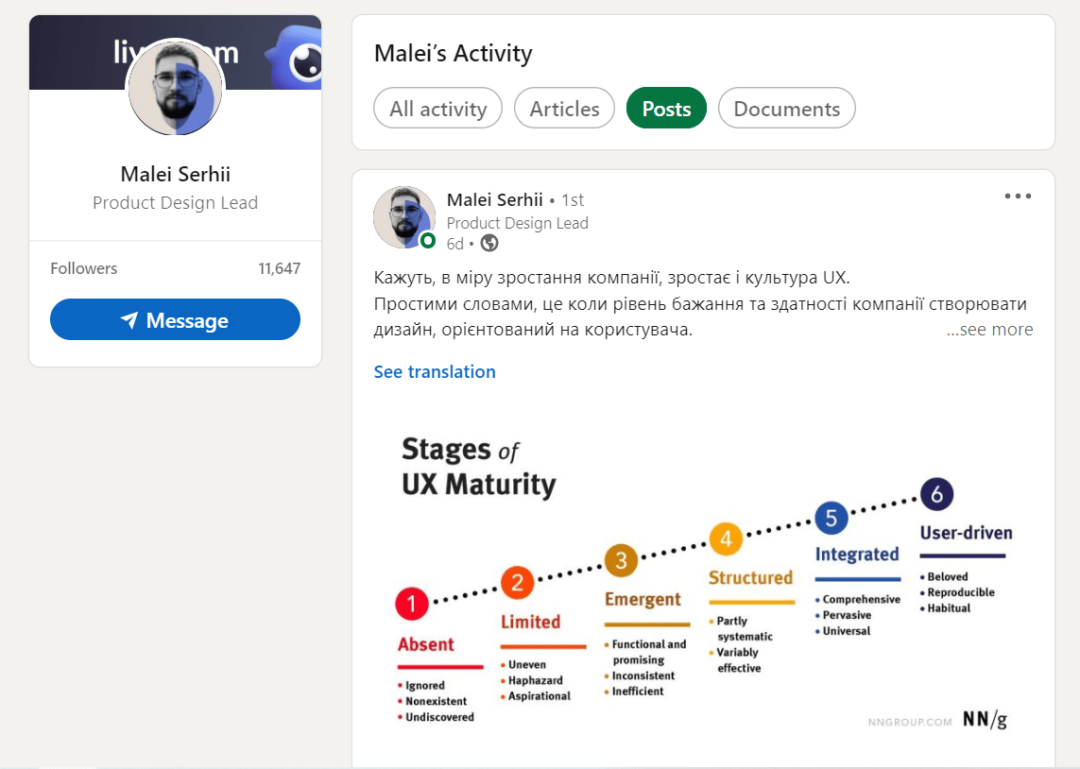 4. Prepare your portfolio
List your best projects and include links or screenshots to them (if possible). This will immediately give an understanding of what you can do.
Describe the tasks you did, problems you solved, and insights you gained for each specific project.
Here are the most common portfolio problems for a product designer position I face regularly:
no product design cases, UI and web designers miss the mark;
good UX design cases, a noticeable design-thinking approach, but terrible UI.
Here are some examples of experienced UX/Product designers' portfolios worth considering:
Karolis Kosas. Product designer at Stripe. His cases always display design results: increased conversions, higher revenue, App Store featured, and much more.
Alex Lakas. He's the designer of Google Maps. He always talks about what he worked on in a project. A few quotes that resonate with me: "Understand, explore & validate", "I use design to tell stories & build products".
Simon Pan. He worked on Uber, Amazon, Google, and Medium. He describes his design approach, the process, and the line of thought in detail.
Niya Watkins. She can't boast of working with well-known brands, but she's the real cherry on top. Research, business needs, users, prototypes, personas, tests – it's all there! Such works inspire.
5. Write or update your CV
In your CV, describe only relevant experience. If you haven't had any real projects yet, mention educational courses and training cases. Specify the literature you have studied and what you have mastered.
Don't forget to update your CV by adding your last job and/or volunteer activities. Let the employer get to know you well as a specialist before personal communication.
Ensure the format of your CV is convenient to open and the links are clickable and accessible. The standard format is PDF since links to portfolios and social media work well there.
6. Write cover letters — they do work
Applicants often ignore cover letters but I believe they shouldn't: cover letters work great, and I always pay attention to them.
A cover letter is an excellent tool to tell about your professional experience, strengths, achievements, and interests before the interview:
Make sure you explain why you want to work in this company and what benefits you can contribute.
Stay true to yourself: transparency and honesty always inspire trust.
Demonstrate your motivation and passion for bringing value.
Many applicants ignore this step, so a cover letter is an opportunity to stand out from the crowd.
7. Be ready to complete the test task
Doing test tasks is a common practice because it is difficult to understand the applicant's skills by simply talking to them.
Consider the test task as an interesting challenge and a source of information: it can tell you what type of tasks you will be dealing with in the company.
Some applicants are afraid of the company not hiring them and using their test task results for commercial purposes. We always assure we do not use test tasks elsewhere and we are fine with the result in any format. We also provide a test assignment that is as close as possible to the actual work task to understand the designer's ability to cope with similar challenges.
While working on the test task, try to understand the description as accurately as possible. Feel free to ask questions to clarify the assignment. Typically, curiosity is perceived positively and indicates your commitment.
Go the extra mile and do more than required and expected. This will help you stand out from dozens of other applicants.
8. Get ready for the interview
Making a list of questions in advance will be useful.
What will you be working on? Who will you cooperate/communicate with? What are the current challenges and why are you being hired? What is expected from you?
They'll definitely ask you if you have any questions. The worst thing is to remain silent.
Apart from the questions, prepare a pitch about yourself based on a value-oriented approach. I recommend you to watch this video and get the main points to understand how it works.
10. Be engaged during the interview
Be engaged in the conversation with the recruiter and especially with your potential lead, and stay involved all the time. Ask clarifying questions about the company, the project, and the decision-making processes. Be proactive and offer ideas right away if you have any.
Here are some typical situations that indicate an unmotivated applicant based on my personal experience:
the person is not interested in what he will work on, with whom, and in what atmosphere
the applicant asks questions only/primarily about perks: food, social package, compensation, etc.
the designer asks inappropriate questions that do not reflect the essence of the job position or the company's activities. We sometimes ask what they found attractive about the job position and realize the applicant barely remembers where they came from.
Final thoughts
Finding "your" company is really challenging, but definitely possible. That is why I advise you to pay enough attention to the research stage and gather info about the company and the job position and get ready for the interview. All these steps will significantly increase the chances of getting a dream offer.
Feel free to provide your tips for choosing a job and preparing for the interview.