Best Project Management Tools For Software Development In 2022
The International Project Management Association reports that only 36% of organizations are likely to deliver projects on budget. The reasons for budget overrun, among other things, lie in low productivity and the inability to track KPIs. It's a task for each entrepreneur to find the solutions for boosting the team's performance. Project management software can help you:
improve collaboration in teams,
track delivery time,
manage budgets.
If your organization struggles with a budget overrun, you should consider implementing project management software. In this article, we outline the best project management tools to improve your productivity.
What Are Project Management Tools? Why Are They Important?
PM tools ease up the communication between teams, task delegation, and delivery. Most digital PM tools support basic PM methodologies: Scrum, Kanban, Agile, Lean, Waterfall, etc. Besides, specialized PM software helps to assess the total cost for your projects and choose cost-effective strategies.
Tip. A streamlined approach to team selection will help to reduce costs. Talentica has expertise in finding top talent for a business request and is ready to help you create a top-notch team.
Need professional developers for your project?
Hire smoothly with Talentica
Using PM software saves up to 498 working hours for each employee per year. It could be a reasonable investment for organizations to stay competitive. Let's see what PM software is on the market and its benefits.
Project Management Tools Overview. How to choose the best PM tool?
Any software for project management aims to make teamwork more productive. Most PM tools share core functionality and if your project has no specific requirements, all of them will suit. However, to get the most out of your PM software, we suggest considering 4 criteria when choosing one:
User Interface. PM software should reduce time on reaching information or specific tools. If you think the UI/UX is cluttered, try another solution.
Customizability. All-in-one solutions often have limited capabilities. Choose the software that can be tailored to your needs.
Scalability. PM software should be reliable enough to support multiple projects in case you decide to scale your business.
Integrations. Modern teams use a bunch of digital tools nowadays. Integrating them into PM software is a huge advantage for interconnected workflow.
Project Management Software for 2022
Project management (PM) software is a digital solution that streamlines project planning, scheduling, and delivery and allows managers to track project progress. PM software's common features include task management, time tracking, reporting, and collaboration tools.
Jira
Jira is an online project management software for planning and tracking agile projects. It supports Scrum and Kanban frameworks popular in managing software development teams. Despite the software development focus, Jira can be customized for cross-functional teams. Besides, Jira offers over 3,000 applications to integrate into your workflow and improve productivity.
Jira benefits include:
Agile methodology support.
Highly customizable.
Advanced reporting.
Suitable for different types of teams.
Can be used for bug tracking.
Pricing. Jira has a free plan for teams of up to 10 members. Paid plans start from 7.5$ per user per month.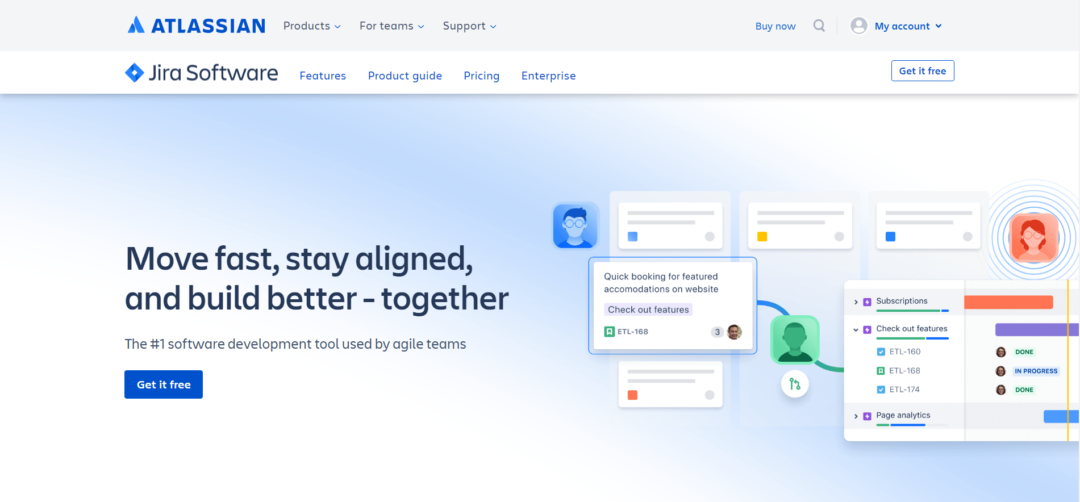 Zoho Projects
Zoho Projects is a digital tool for task tracking and project planning. Zoho Projects allows managers to streamline team collaboration, automate repetitive tasks, create and assign tasks, track delivery, and collect insightful reports. Zoho Projects can be customized to meet your business needs. Integration with MS Outlook Calendar, Google Drive, Dropbox, Github, Slack, Zapier, MS Teams, and Gmail can make the software even stronger.
Zoho Projects stands out from the competitors by providing:
clear UI/UX,
full-featured free plan,
customization,
advanced customer support.
Pricing. A free plan is available for up to 3 users. Paid plans start from 5$ per user per month.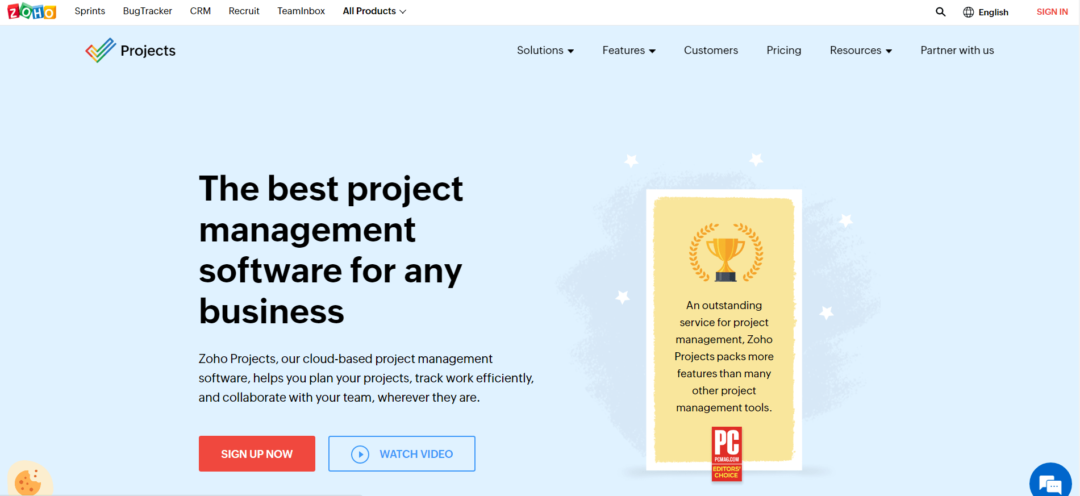 Wrike
Wrike is a task management software designed to streamline project management. User experience is straightforward while the feature set allows managers to navigate through several projects and establish productive collaboration between teams. Wrike is easy to customize to your team's needs. The software supports agile methodologies.
Wrike's advantages include:
Improves collaboration among multiple teams.
Suits for enterprises.
Easy to use.
Robust functionality.
Pricing: Paid plans start from 9.8$ per user per month.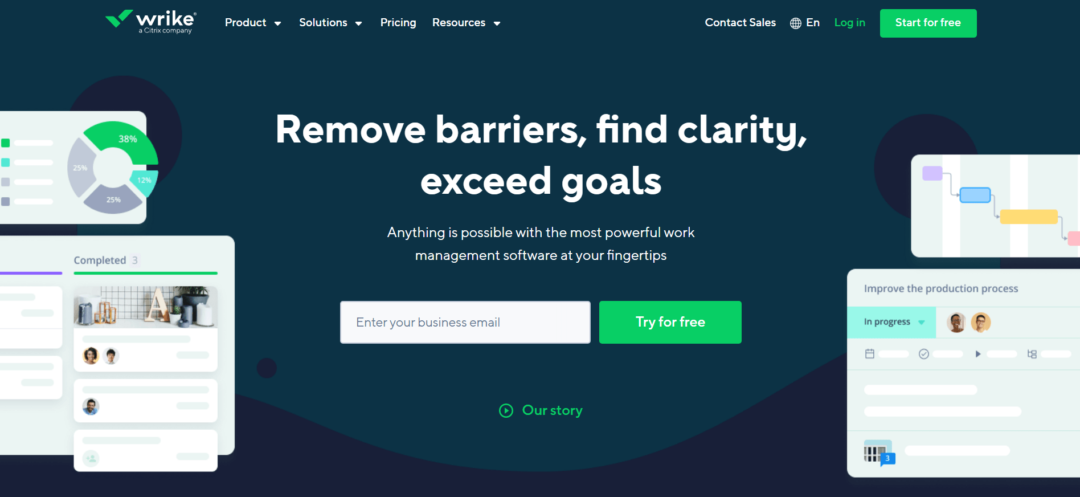 Asana
Asana is a software as a service for team collaboration and project management. The platform helps managers unite different specialists in one workspace and streamline several projects simultaneously. Asana's core advantage is collaboration. Besides task management, the platform provides messaging, file attachments, task comments, and team and project conversations to improve communication between team members. Other advantages of Asana are:
user-friendly interface,
extensive add-ons library,
workflow automation.
Pricing: Paid plans start from 14$ per user per month.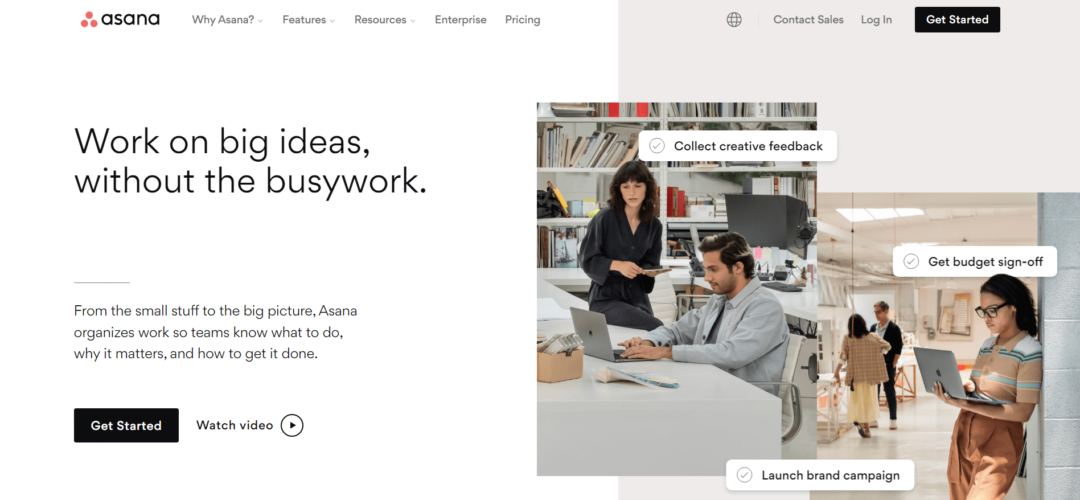 Trello
Trello is a task management tool that provides user-friendly visualization of workflow and task tracking. Trello is good for small teams or projects with a limited amount of tasks. The platform uses a Kanban board to track the tasks. Trello can be used for business and personal goals. The tool is easy to set up and use. It has limited functionality which is convenient for project newbies in project management. More Trello advantages include:
Cross-platform access.
Advanced notification feature.
Simple pricing.
Integrations.
Pricing: Paid plans start from 5$ per user per month.

Other Tools to Boost Project Management
Project management tools also include software that enhances specific aspects of project management. For example, visualization tools to demonstrate project plans or instant chats to improve communication among teams.
Collaboration Tools
Notion
Notion app allows teams to coordinate their workflow, set clear deadlines, share documents and take notes. This tool helps project managers promote transparency while working asynchronously. Notion is a great PM tool because it is flexible, user- and mobile-friendly, and boosts team productivity.
Pricing: Paid plans for teams start from 10$ per user per month.

Miro
Miro is an online board designed to unite distributed teams in one place and collaborate. It's a perfect tool for brainstorming, creating designs, and visualizing plans and strategies while communicating via chats and video calls. Miro offers plenty of graphic elements to depict complex concepts clearly and understandably.
Pricing: Paid plans start from 8$ per member per month.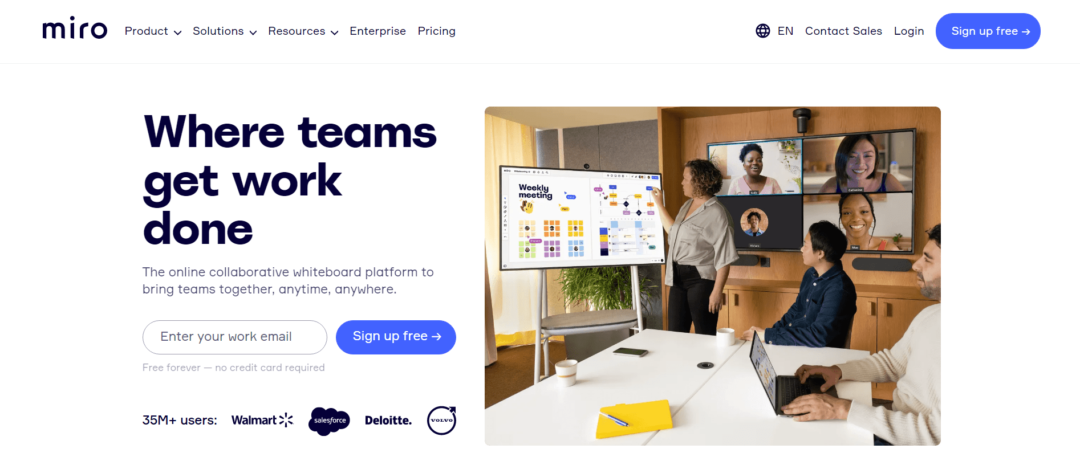 Communication Tools
Microsoft Teams
Microsoft Teams is a digital workspace that supports video calls, chats, file sharing, and notes. The application allows managers to create channels dedicated to each project, event, or topic to organize communication. MS Teams include the following perks:
instant communication,
video meetings with up to 300 participants,
documents storage,
task management,
security features.
Pricing: Paid plans start from 5$ per user per month.

Slack
Slack is a messenger for corporate use. It has a user-friendly design and a clear setup. Communication in Slack is organized in channels that are dedicated to a particular project, topic, or team. The tool is especially useful for development teams as it can be customized to send automatic alerts when specific issues happen.
Pricing: Paid plans start from 6.67$ per user per month.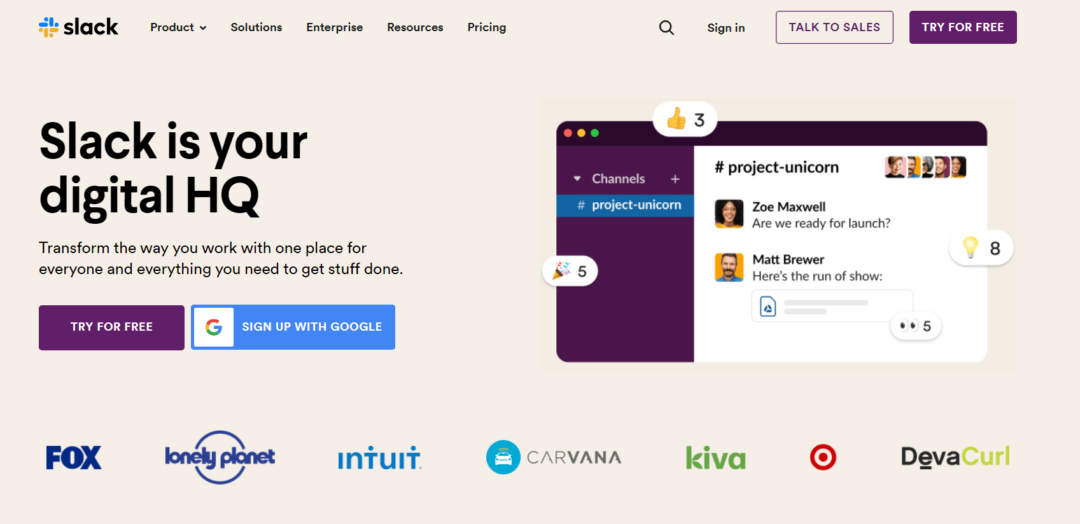 Also read: How to Write an IT Services RFP?
How to Hire the Right People For Your Team?
Digital tools can increase productivity but they don't guarantee to achieve your goals. Real success comes when the team works hard and well together.
Finding new team members can be a daunting task for business owners.
Where to find the time to search through candidates? How to choose the best of them?
Well, you can turn to recruiting agencies such as Talentica. To start looking for the right team players, you need to follow three simple steps:
Step 1. Define how fast you need to fill the vacancy and type of employment. For example, 1-2 weeks and part-time.
Step 2. Define who you are looking for. Pick a specialty an ideal candidate must have, outline his or her tech skills and tick the years of experience.
Step 3. Leave your contact details and hit the 'send' button.
Talentica has experience in finding software developers according to clients' requirements. We have access to an extensive talent pool that is ready to become a member of your team.